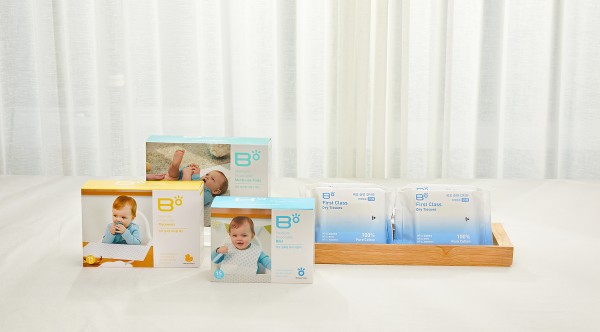 The products of BO, the brand of JYS Company, winning popularity in Korea, started its advancement abroad.
JYS Company develops designs focused on materials. And the CEO Yang I-soo majored in textile art/design with a master's degree in textile art and materials in the US, followed by a doctorate in fine art. During his doctorate, he studied sustainable materials, which was also mentioned in his academic paper. Based on his academic experience, he developed sustainable material with a biodegradable coating applied to cotton to create various baby products.
The brand BO develops product designs that parents can easily and conveniently use with safe materials and production processes. Introducing 100% cotton disposable bibs, table mats, diaper changing pads, and dry wipes for the first time in Korea, it earns great recognition in Korea as a baby product brand.
Moreover, CEO Yang I-soo is researching and developing vegan leather using mushroom mycelium, and he said he plans to create various fashion products using vegan leather in the future.
Media Contact
Company Name: JYS COMPANY
Contact Person: Yeesoo Yang
Email: Send Email
Phone: +82 51-900-9888
Country: South Korea
Website: www.babyscience.co.kr