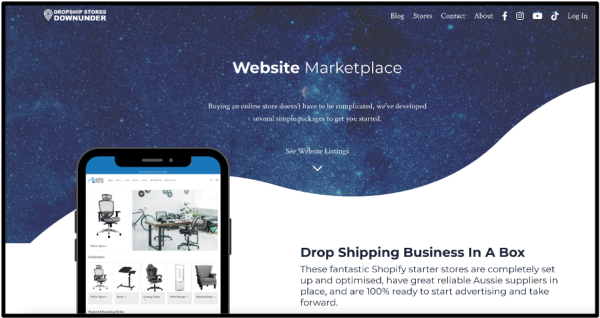 Dropship Stores Downunder is a group of Australian e-commerce and drop shipping experts committed to accelerating the drop shipping careers of their country men online. They offer high-quality pre-made dropship stores in the best categories accessible, with Australian suppliers already in place, they have more than ten years of experience in the development of Shopify websites and the e-commerce and drop shipping industries.
Drop Shipping Business in a box is their brand new launch.
These amazing Shopify starter stores are fully configured and optimized, have excellent, dependable Australian suppliers in place, and are perfectly prepared to launch advertising campaigns.
Following are the features in brief of Drop Shipping Business in A Box.
Fully Optimized, Authority Domain, Premium Branding, Australian Suppliers, Solid Profit Margins, Product Catalog, Support & Help and Community Network.
By offering a comprehensive, fully functional, and completely ready-to-launch dropship store, they hope to save their clients time and effort when building up their online stores. To guarantee top-notch goods and consistent delivery times, they carefully choose the greatest product niches and only partner with dependable Australian suppliers. User-friendly interfaces and conversion optimization of their stores make it simple for their customers to start making sales right immediately.
Their team of professionals is constantly on hand to support and advise their clients, making sure they have all the resources and expertise necessary to be successful in the dropshipping industry. Whether you're an established businessperson or are just getting started, they have the knowledge and skills to make you successful. Due to their deep knowledge of drop shipping and e-commerce, they can offer insightful recommendations that will assist you in running your company.
In the Australian website marketplace, buying an online store doesn't have to be complicated, they've developed several simple packages to get you started. Drop Shipping Business In A Box, these fantastic Shopify starter stores are completely set up and optimised, have great reliable Aussie suppliers in place, and are 100% ready to start advertising and take forward.
Media Contact
Company Name: Dropship Stores Downunder
Contact Person: Klint Parker
Email: Send Email
Country: Australia
Website: https://www.dropshipstoresdownunder.com/