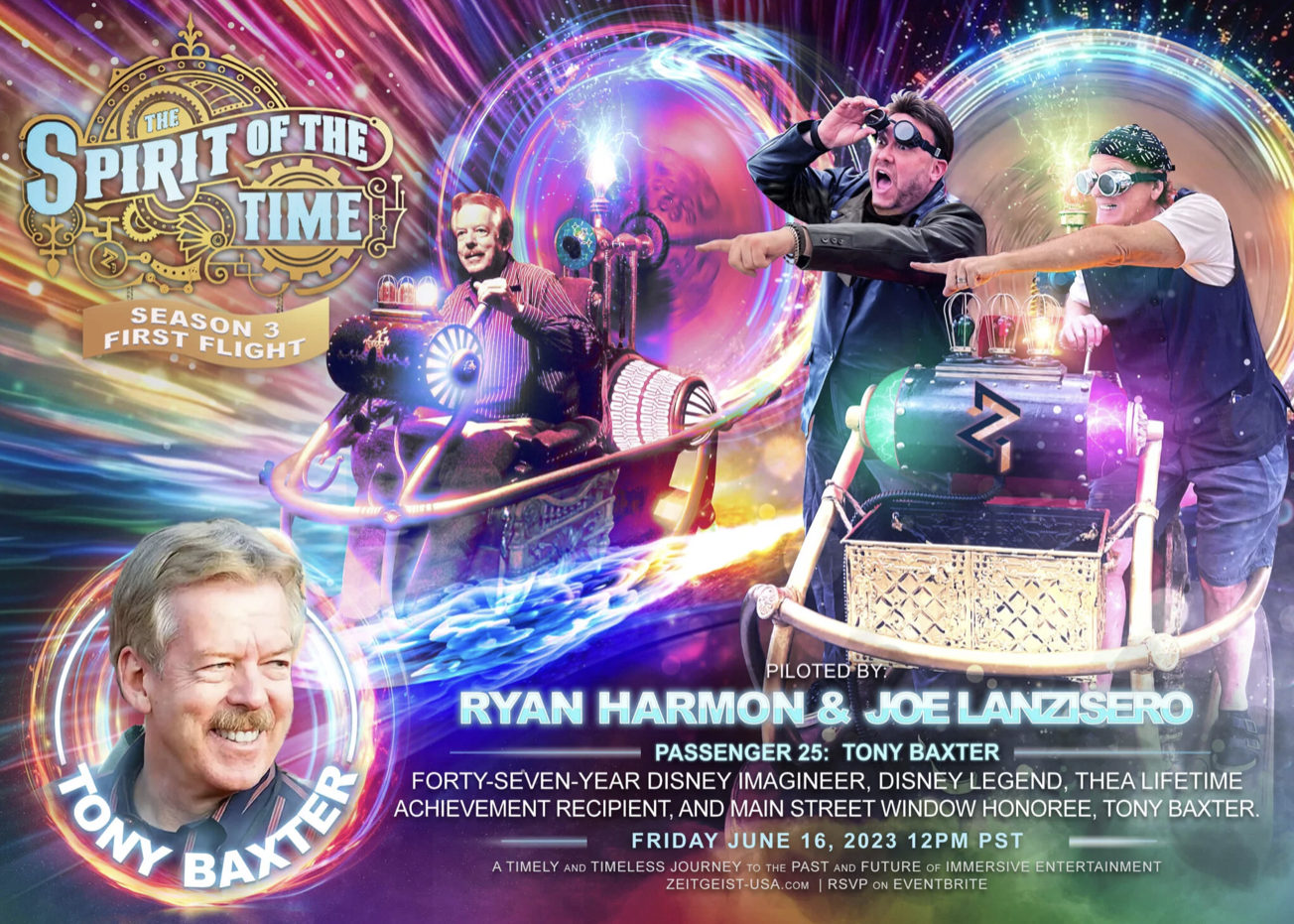 "World's most famous theme park designer" will board the time machine to travel back through career highlights and discuss the closing of his Splash Mountain attractions in California and Florida at 12pm PST on Friday, June 16, 2023
Pasadena, CA - June 6, 2023 - The world's preeminent experiential design agency, Zeitgeist Design & Production, will launch its third season and 25th episode of its "Spirit of the Time Zoomcast" with time-travel passenger Tony Baxter — internationally recognized as "the world's most famous theme park designer."
Begun on April 30, 2021 and hosted by industry veterans and Zeitgeist executives Ryan Harmon and Joe Lanzisero, the popular live online video interview show offers a sneak peek behind the themes, moving its audience without a ride system each month by inviting one incredibly talented immersive entertainment industry colleague aboard the company's time machine for a journey through milestone moments in that individual's life and career in an attempt to unravel the mystery of what makes a guest experience timely, yet timeless.
Past passengers aboard the time machine include Disney icon Joe Rohde, Universal Creative co-founder Bob Ward, pop culture artist Shag, creative leader Phil Hettema, and three of the "Women of Imagineering:" Peggie Fariss, Tori McCullough, and Beckie Bishop.
Once archived only as video on the Zeitgeist website and YouTube channel, the entertaining and educational hour-long zoomcast that appeals to fans of theme parks, Disney, Universal, and immersive entertainment is now available as an audio-only podcast on all popular podcast apps, including Apple Podcasts, Audible, Spotify, and Google Podcasts. Viewing and listening is always free.
On Friday, June 16, 2023, at noon PST, The Spirit of the Time Zoomcast will kick-off its third season of production and 25th episode with Disney Legend, TEA Lifetime Achievement Award Recipient, and Main Street Window honoree, Tony Baxter. Celebrated worldwide for his nearly five decades at Walt Disney Imagineering and for spearheading such beloved parks and attractions as Disneyland Paris (overallcreative direction), Indiana Jones & the Temple of the Forbidden Eye, Big Thunder Mountain Railroad, Journey into Imagination, Disneyland's New Fantasyland, Finding Nemo Submarine Voyage, and Splash Mountain, Baxter is a creative force instantly recognizable for his bushy mustache and flannel-over-t-shirt style, which is often emulated by his fans at Disney's bi-annual D23 Expo.
"We are thrilled that our longtime friend and colleague Tony Baxter has finally agreed to embark on a time travel journey with us," says Zeitgeist founder and co-host Ryan Harmon. "Tony was born to be a theme park designer; it's in his heart, it's in his soul – he just intuitively knows what works and what doesn't; what audiences will respond to; and how to tell immersive stories like few since Walt Disney, himself. Even I'm counting down until June 16th!"
"Our live online interviews recognize superstars like Tony Baxter, while also documenting and sharing a real insider's view of how entertainment experiences take shape, from concept to reality" adds co-host Joe Lanzisero. "So many of our past passengers have referenced Tony as a mentor and an inspiration, so now we'll get to hear the tales from the Disney trenches from the man, himself!"
"Set your clocks now for an hour of stimulating conversation and Q&A with one of the world's most creative people," adds the show's on-air co-producer Beckie Kiefer. "The Spirit of the Time Zoomcast offers a little bit of time travel, a little bit of immersive entertainment history, and a whole lot of fun!"
The Spirit of the Time Zoomcast can be found at www.zeitgeist-usa.com/zoomcast and on the Zeitgeist Design & Production YouTube Channel. Search "Zeitgeist's Spirit of the Time" on your favorite Podcast app.
About Zeitgeist Design + Production 
Founded in Pasadena, CA by 36-year themed entertainment industry veteran Ryan Harmon in 2011, Zeitgeist Design + Production tells the tales of some of the world's most successful brands, intellectual properties, and historical accounts through the creation of UX-IRL — User eXperiences In Real Life, including innovative immersive entertainment, brand experiences, experiential retail and marketing, interactive and multimedia experiences, and more. From the initial creative vision and strategy, to master planning and design, to turnkey production solutions, Zeitgeist Design + Production team members have conceived, designed, and built over $12 billion in successful and beloved guest experiences worldwide for clients including, Walt Disney Imagineering, Disney Cruise Lines, Chimelong Group, Universal Creative, BBC Worldwide, Saudi SEVEN, Hersheypark, Dollywood, and many more.
For more information, please visit www.zeitgeist-usa.com
Media Contact
Company Name: Zeitgeist Design & Production
Contact Person: Audrey Boyce
Email: Send Email
Country: United States
Website: www.otterpr.com