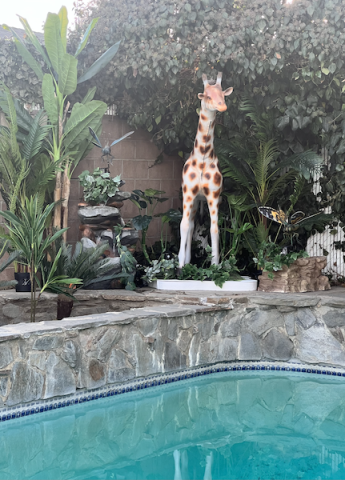 Recently, Lollipop Lights has decorated an exclusive VIP event for a Cast  Member of an Emmy  Award Winning TV Show. Disney's Proud Family, Liana Mendoza, enlisted the help of the incredible designer Shauna Beckford and her dedicated team this summer in the privacy of her home. This company is the next big hit.
The Lollipop Lights team can make your vision a reality. At Lollipop Lights, they do not believe in the impossible. They routinely handle designs that other people cannot. Their unique team means that they can combine artistry and technology. The results are fully functional, stunning animatronic pieces that exceed viewers' expectations. They handle production in-house to retain control over the entire process to custom fit your needs. The result is an attention-to-detail quality that their competitors cannot match. They are the new talk of everything Hollywood.
"I loved my lollipop lights, camera, action!" - said, Liana Mendoza.
Lollipop Lights Productions was started by Owner/Event Director Shauna Beckford. Shauna is an art fabricator expert with over 20 years of experience in the industry. Her work has been featured in two magazine publications, a famous author's book, and several popular blog sites, including Pop Sugar. She also has a background in CNC robotics. She pioneered the term "Full Motion Props" with her latest innovative idea to bring props to life. She states, "Nothing shall sit still; everything must move, light up and engage the audience."
Shauna and her team are veterans bursting with innovative and creative talent. They are experienced in all facets of event and party rental productions. Day or night, 365 days a year, they are passionately determined to ensure your event is truly special.
Their professional installation and logistics team will dazzle you from start to finish with their enthusiastic attitude and attention to detail.
Get in touch with Lollipop Lights at lollipoplightsllc@aol.com to dazzle everyone at your next event.
For updates, follow Lollipop Lights on Instagram: https://www.instagram.com/lollipoplights
Media Contact
Company Name: Lollipop Lights
Contact Person: Shauna Beckford
Email: Send Email
City: Los Ángeles
State: California
Country: United States
Website: www.instagram.com/lollipoplights