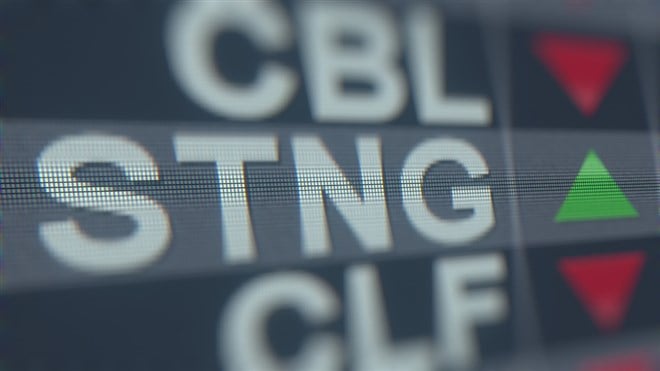 Between the collapse in natural gas prices and the downtrend in oil, energy stocks don't look as attractive as they did back in the summer. In the meantime, one corner of the oil and gas industry is bucking the trend: product tankers.
Put, product tankers like Scorpio Tankers (NYSE: STNG) have boats that they rent out to transport oil products like diesel and gasoline. They have fixed costs. This means it might cost them $17,000 to operate one of their boats for a day, meaning almost all the upside beyond their fixed costs flows straight to the bottom line.
While most energy stocks are off their highs, tankers benefit from current market conditions. The industry is on an upswing as Russia and Europe find new trading partners and tanker supply constraints mount.
The Demand Story
The macro outlook for product tankers is already rosy. Tanker companies are guiding for higher earnings in 2023, and day rates, while taking a bath in December, are up over 50% since the start of February.
But the natural fuel on the fire is the significant rise in miles Scorpio's vessels will now travel due to the EU's embargoes on Russian oil, which kicked in on February 5. Case in point, Russia can't sell oil to the Europeans anymore. So instead, they've started trading with a new swath of countries spanning Asia, South America, and the Middle East, and tankers will be the method of transportation.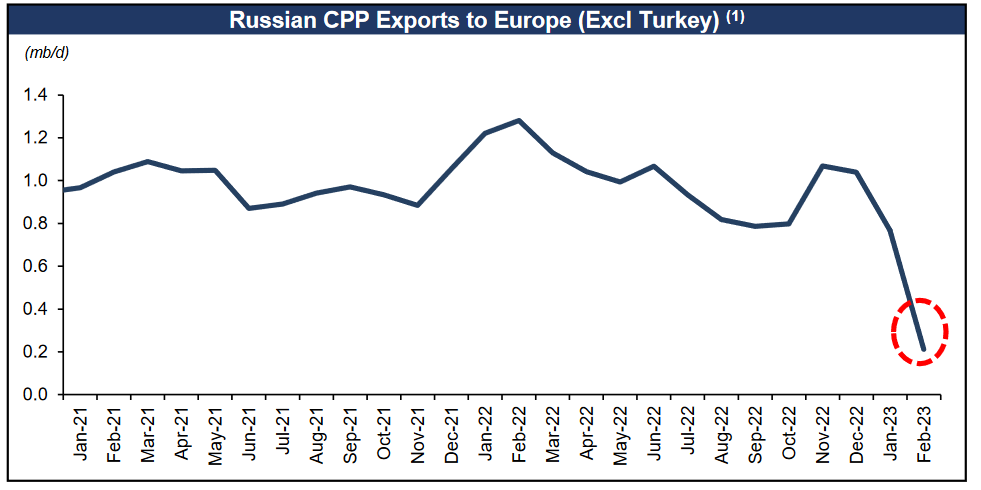 Source: Scorpio Tankers Q4 Earnings Presentation
And this all flows to the bottom line of tanker operators like Scorpio due to their fixed cost structure. The company makes money by chartering its massive vessels to carry refined oil products for a daily rate. However, the daily rates fluctuate significantly based on demand. As a result, it's a highly volatile, cyclical business, and catching the right or wrong side of a cycle can make or break a portfolio.
The Supply Story
When physical and economic realities prevent competition from coming to market, you have a recipe for constrained supply. That's where the product tanker business finds itself today.
There's been a massive outflow of investment capital from the energy sector, primarily driven by ESG initiatives adopted by many top asset managers. As such, the remaining institutional investors in the sector demand energy companies return nearly all excess cash to shareholders. They're still sporting a hangover from the undisciplined capital allocation during the shale boom.
As a result, orders for new vessels are at historic lows, meaning that for the time being, the industry cannot add new capacity to respond to growing demand, which would force day rates to go up.
The Rundown on Scorpio Tankers
Scorpio Tankers (NYSE: STNG) is a prime pick to play this trend for several reasons. First, the company is the largest publicly traded tanker stock by market cap and fleet size. Should this trend continue to extend, Scorpio would be the logical choice for institutions to get exposure.
The company also primarily uses a spot pricing model. Instead of locking in long-term deals at lower rates, Scorpio rents their ships at the constantly fluctuating daily market rate. This presents a significant source of risk but also opportunity. They'll lose much money if day rates crash below the company's fixed costs. However, even a modest increase in day rates almost entirely flows to the bottom line.
This is already showing up in Scorpio's recent earnings reports. For example, in the fourth quarter of 2022, the company generated $264 million of earnings on just $493 million of revenue, sporting an eye-watering 53.5% profit margin. Compare this to 2021, when the company lost money in each quarter on quarterly revenues between $100 and $150 million.
That's not to mention some of the positive developments at the corporate level, too, as Scorpio has been using its windfall profits to pay down debt and repurchase shares. Reducing debt for a feast or famine cyclical stock like Scorpio is critical to weathering the hard times. Concerning the buyback, Scorpio President Robert Bugbee emphasized his belief in a recent interview that Scorpio shares are currently trading below their net asset value, which is why he prefers share repurchases over increasing dividends.
Bottom Line
Tanker stocks are like gold mining stocks. The potential returns are enormous, but timing is everything. Getting that critical piece wrong leaves you holding the bag. Investors should note that tanker stocks are not "set it and forget it" stocks and should be prudent with their purchase timing and position sizing.