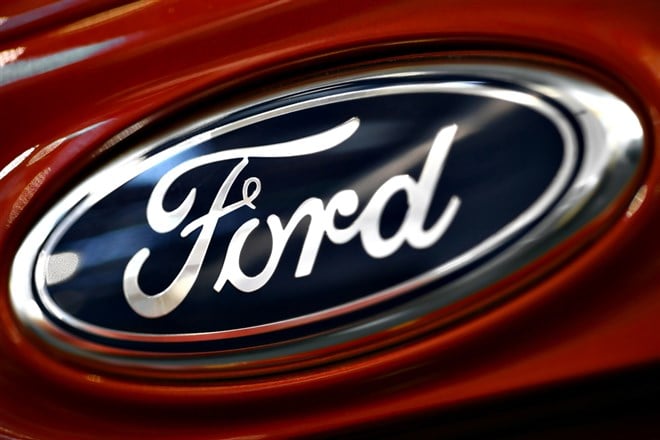 With their shares having rallied as much as 30% since the end of December, Ford Motor Company (NYSE: F) investors would have been looking forward to a strong February and potentially March. Ford shares have been stuck in a pretty defined range since last summer, bouncing off the support line for the third time at $11 only last month.
With the company's Q4 earnings, released last night, eyed as the primary catalyst, it's fair to say that investors were positioning for an upside surprise. They certainly needed it, with Ford still trading 50% lower from last year's all-time high, even with the recent rally. 
But it wasn't the knockout they wanted. While the automotive giant's topline revenue was up 18% on the year and well ahead of the consensus, their bottom line earnings missed badly. This compared poorly to  General Motors Company (NYSE: GM), who landed a solid beat on both counts earlier this month. 
The company's leadership pointed fingers at the now well-known "supply chain and production instability" headwinds that have been plaguing many companies, as well as the impact of inflation and adverse FX fluctuations. CEO Jim Farley went so far as to say "we should have done much better last year.
We left about $2 billion in profits on the table that were within our control, and we're going to correct that with improved execution and performance." 
So What Next?
Having jumped more than 12% in the most recent three sessions alone, this wasn't the big beat and upgraded forecast that investors hoped for. Indeed, Ford shares were trading down more than 6% in Thursday's after hours session and Friday's session should be no less volatile. 
Wall Street will be weighing up the seemingly ever present headwinds in the form of the global semiconductor shortage that, for automakers like Ford, results in lower production volumes. The company had previously warned that this would result in a volume shortfall in the fourth quarter, which was indeed reflected in the results.
However, aside from kicking themselves over that $2 billion left behind, management was still optimistic about the future. In the earnings call they cited their strong product lineup and the positive impact of their recent investments in electric and autonomous vehicles (EVs and AVs). 
This focus on EVs and AVs is expected to position them well for the future as the automotive industry continues to shift toward electrification and automation. Many investors would consider Ford among Tesla Inc's (NASDAQ: TSLA) top competitors in the space.
Strengthening the bull's argument that despite the earnings miss, this wasn't that bad of a report was the announced supplemental dividend of $0.65 per share. This was made possible by a stronger-than-expected free cash flow, as well as nearing what the company called the complete monetization of its stake in Rivian Automotive Inc (NASDAQ: RIVN). 
Getting Involved
So how best to play them in the coming weeks and months? If this wasn't the knockout result that investors wanted, it always wasn't confirmation of the doom and gloom picture the bears would have painted. The headwinds cited in the report are the same faced by not just many equities in general but effectively all of Ford's competitors. Automotive makers have just closed out what's been called the worst year for car sales in a decade.
A perfect storm combination of dwindling stock and falling consumer spending means margins are being squeezed harder and harder. For investors looking to take on some exposure to the industry, it becomes a question of which is the stronger player. 

And in that regard, Ford has its merits. With a price-to-earnings (PE) ratio of just 6.5, they can't be called cheap compared to Tesla, which has a PE ratio of 50. Ford's shares also traded in an attractive technical set up and tested but failed to break the $11 mark multiple times in the past year. Last night's report isn't enough to send them back down again, so let's see how they perform in the next week or two. Marketbeat's Marketrank forecast of Hold probably isn't a bad call for now.