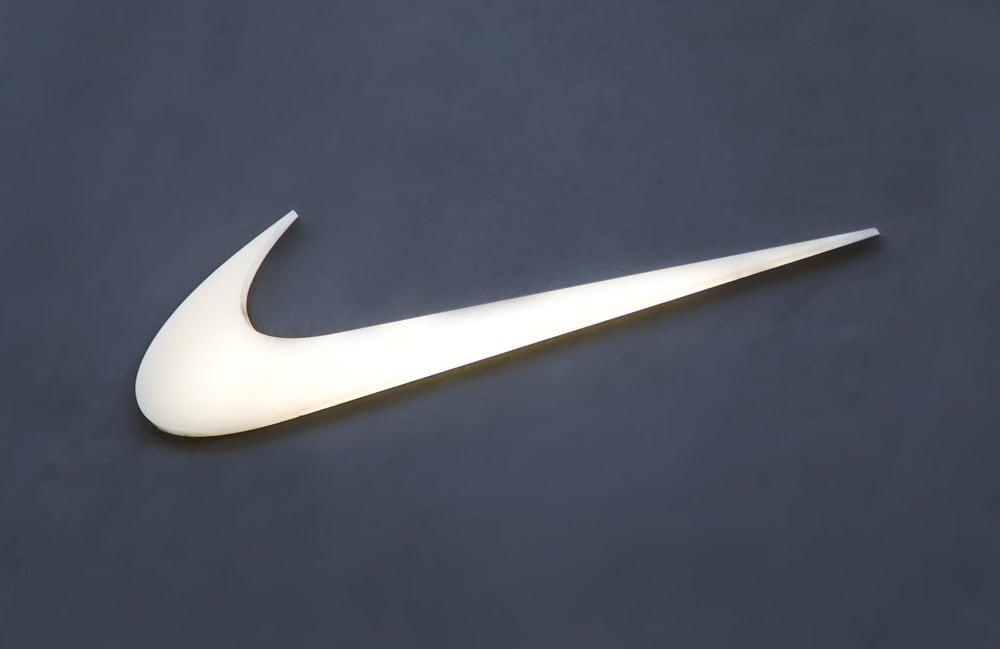 Athletic footwear and apparel maker NIKE Inc. (NYSE: NKE) shares fell on Its fiscal Q3 2023 earnings release. The report was stronger than expected, but margin compression and rising inventories snuffed out any immediate buying pressure on its stock. Despite beating sales estimates by over a billion dollars and EPS estimates by $0.24, the market focused on its rising inventories and extensive markdowns to liquidate excess inventory. If inflation deceleration occurs, the impact on input and freight costs could be an added bonus for upcoming earnings. The latest report by athleisure wear giant Lululemon Athletica Inc. (NASDAQ: LULU) may present a sign of just that.
Lululemon's Favorable Tailwinds
Margin compression has been a significant headwind among athletic apparel and footwear consumer discretionary stocks. Under Armour Inc. (NYSE: UAA) suffered a (650 bps) drop in operating margins. Lululemon Athletic initially suffered double-digit margin compression but saw full price penetration normalize in January 2023. Swiss shoemaker On Holdings AG (NASDAQ: ONON) recently reported margin expansion. Lululemon also indicated that revenues are spiking in China due to the COVID-19 restrictions being lifted.
The Long Pandemic Road
Nike has come a long way since the pandemic. It experienced inflationary pressures,  supply chain disruptions, shipping container shortages, and weaker China sales due to the nation's zero-COVID policy restrictions. While China has begun opening back up its economy, Nike's business faces heavy margin compression due to heavy markdowns trying to clear its $8.9 billion inventory. It continues to experience higher input costs, logistics costs, and unfavorable FX headwinds.

Big Sales From Big Markdowns
On March 21, 2023, NIKE released its fiscal third-quarter 2023 results for the quarter ended February 2023. The Company reported diluted earnings-per-share (EPS) profit of $0.79, beating consensus analyst estimates by $0.24. Revenues grew 13.8% year-over-year (YOY) to $12.4 billion, beating analyst estimates of $11.48 billion. NIKE Brand revenues rose 14% and 19% in constant currency. Greater China sales rose 1% on a currency-neutral basis due to the shift in zero-COVID policy restrictions but fell (8%) on a reported basis. NKE Direct sales rose 17% to $5.3 billion. NIKE Brand Digital sales rose 20% on a reported basis and 24% on a currency-neutral basis. Wholesale revenues grew 12% reported and 18 percent on a currency-neutral basis. Digital growth was 24%.
Margin Compression
Gross margins fell (330 bps) to 43.3%, worse than the (200 bps) to (250 bps) drop previously forecast. This resulted from higher markdowns to liquidity inventory, unfavorable FX, input cost, and logistics inflation. Inventories rose to $8.9 billion, up 16% YoY due to higher product input costs and elevated freight costs. Inflation deceleration can help ease the pressure.
NIKE CEO John Donahoe commented, "In Q3, we had inventory growth of 16% year-over-year. Our decisive actions are enabling us to navigate through the shifting dynamics with continued improved efficiency. These results demonstrate yet again that we're on track to hit our fiscal '23 priorities of getting inventory in a healthy position and delivering revenue consistent with the financial goals we set earlier in the year."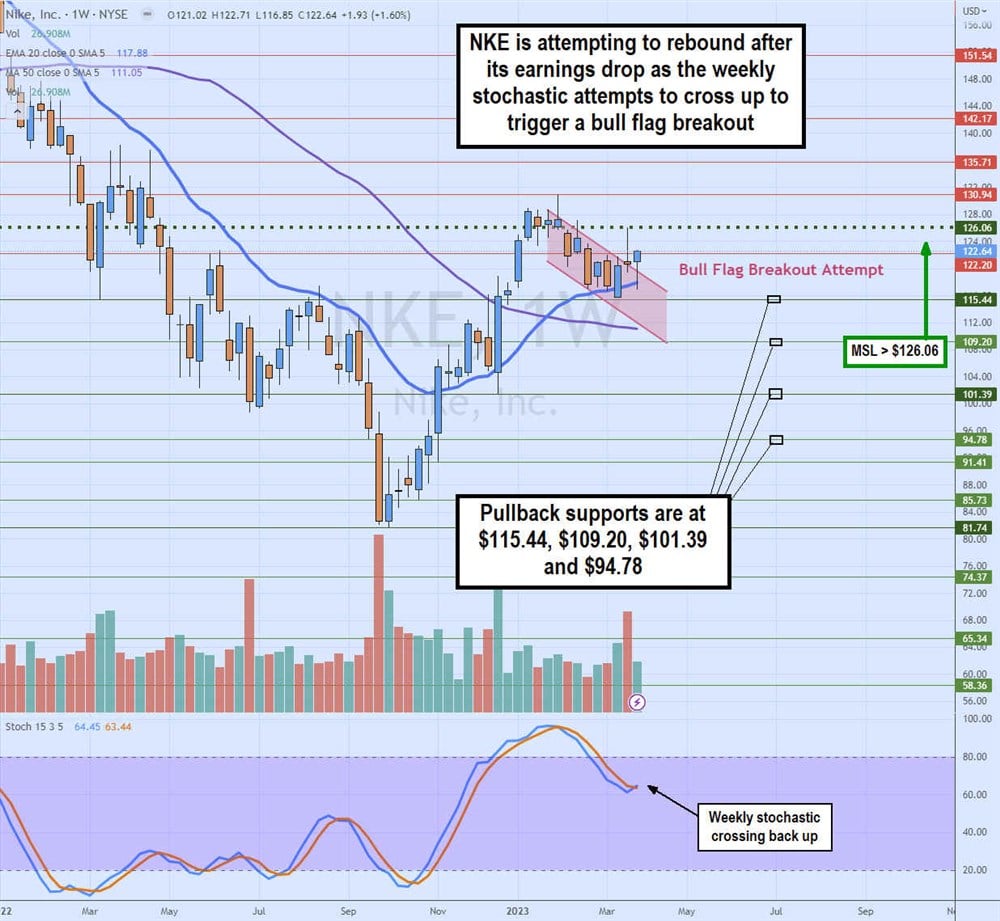 Weekly Bull Flag Breakout Attempt
The weekly candlestick chart on NKE illustrates the near-vertical price rise from its low of $81.74 in October 2022 to a high of $130.94 by the end of January 2023. Shares made a near-parallel drop, with lower highs and lower lows forming a flag on the retracement. The weekly stochastic fell back under the 80-band. Shares bottomed out on the pullback at $115.44 as it spiked through the flag upper parallel trendline to form a weekly market structure low (MSL) trigger at $126.06. NKE sold off on its fiscal Q3 2023 earnings report sending shares back into the flag range.
Shares try to break out through the bull flag above the $119.71 upper trendline as the weekly stochastic attempts to cross back up. The weekly 20-period exponential moving average (EMA) support is $117.88, followed by the weekly 50-period MA support at $111.05. Pullback support levels are $115.44, $109.20, $101.39, and $94.78.