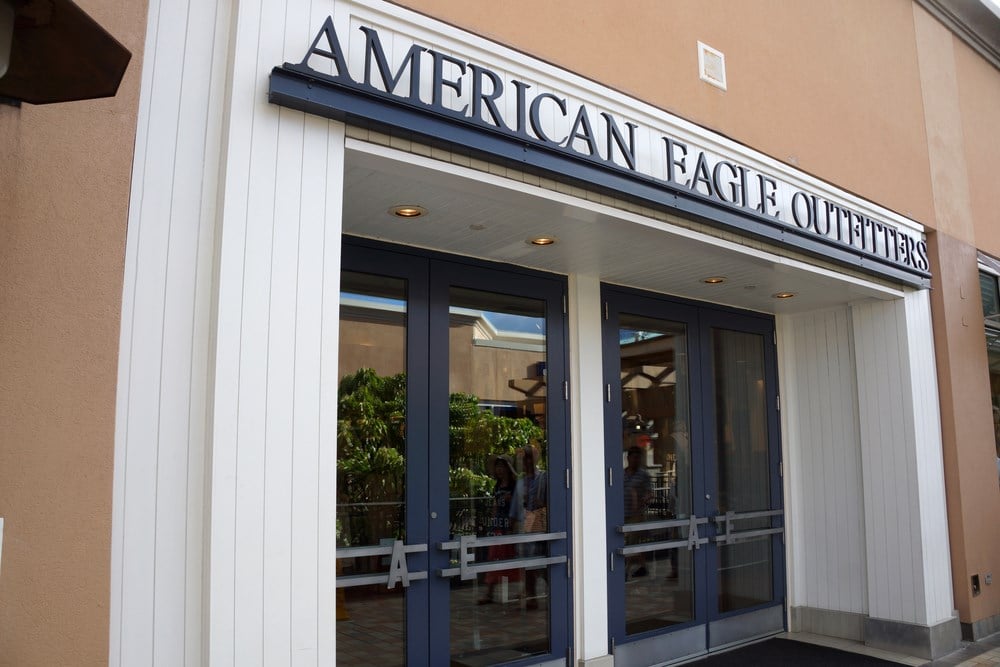 American Eagle Outfitters, Inc. (NYSE:AEO) is having an amazing 70% off sale…but is it really a bargain?
On May 25th, shares of the clothing retailer went on the clearance rack following a weak 2023 outlook. Now trading more than 70% below its June 2021 record high, Wall Street can't decide if the stock is a great fit for value shoppers…or if holders will keep losing their shirts.
American Eagle's descent to the $10 level comes at a time when apparel stores already dealing with inventory issues and markdowns now face a consumer spending slowdown. Some are handling the challenges better than others.
Abercrombie & Fitch, Gap and Urban Outfitters all fashioned impressive Q1 results last week leading to big gains in their respective stocks. Others like Buckle and Shoe Carnival missed the mark and have slipped to new lows. What will this week's Lululemon report reveal?
In an industry that's become harder to predict, there doesn't seem to be a common thread among winning retailers. Promotional activity, expense reductions, store expansion and e-commerce investment are certainly all important factors.
Amid the economic uncertainty, however, American Eagle is having a tough time finding the right match. 
What Was in American Eagle's Q1 Report?
In the plus column, American Eagle announced record Q1 revenue of $1.1 billion. The company got a strong contribution from its Aerie womenswear brand which grew sales 12% and accounted for one-third of total revenue. 
Profitability also improved as a result of lower transportation, delivery and non-corporate compensation costs. Adjusted earnings per share (EPS) came in at $0.17 which equates to 6% year-over-year growth. A significantly reduced long-term debt balance was another fundamental positive.
In the negative column, Q1's top line growth was only 2% as a rebound in store traffic was partly offset by slumping online sales. Perhaps the biggest concern was that product markdowns were up in the period, which shows prices are still being slashed to attract weary shoppers and move inventory. Inventory decreased 8% during the quarter.
American Eagle's decision to open seven new stores (five net) in Q1 is curious. On one hand, physical retail locations are growing faster than e-commerce so the move makes sense. On the other, it led to higher rent expenses and seems ill-timed given the weakened discretionary spending backdrop.  
What Is American Eagle's Recovery Outlook?
Both the top and bottom line results were slightly ahead of consensus expectations. The problem was that management's second-quarter outlook was as soft as an AE hooded beach flannel. 
The company is expecting sales to be down 'low-single digits' this quarter, which dampens the enthusiasm of the Q1 growth and means it could be short-lived. More importantly, guidance for operating income ($30 million at the midpoint) points to at least one more quarter of razor-thin margins. Markdowns, elevated freight costs and higher advertising expenses all likely contributed to the operating profit forecast. So too, could higher corporate compensation (as in Q1), a bad look given the retailer's current slump.
Making matters worse, management cut its full-year outlook. It now expects sales to be flat to down slightly and operating income to be $260 million at the midpoint. This suggests that after a solid start to the year, the company is witnessing a slow spring shopping season as consumers pare back travel plans and summer clothes purchases.
What Is Wall Street Saying About American Eagle?
Wall Street's revised forecast for second-quarter EPS is $0.14, which would mark a sharp improvement over the prior year period but a sequential decline. Year-over-year EPS declines are forecast for the company's all-important second half when back-to-school and holiday shopping kick in. 
In total, American Eagle is forecast to deliver EPS of $1.06 over the next four quarters, which translates to a 10x forward P/E ratio. The S&P 500 is trading around 18x forward earnings. This appears to make the stock an intriguing value play, but some say the makeover is far from complete. 
Last week, Bank of America kept its sell rating on American Eagle and gave it a $9 price target. Four other firms lowered their targets and maintained neutral positioning. Although both lowered their targets from $17 to $14, Jeffries and Deutsche Bank called the retailer a buy.
Although the Street's opinions on American Eagle vary widely, their price targets do not. This could mean the stock goes sideways during the seasonally slow second quarter as investors await signs of a broader demand recovery. An e-commerce rebound and better-than-expected holiday sales may ultimately be what it takes for American Eagle to soar again.