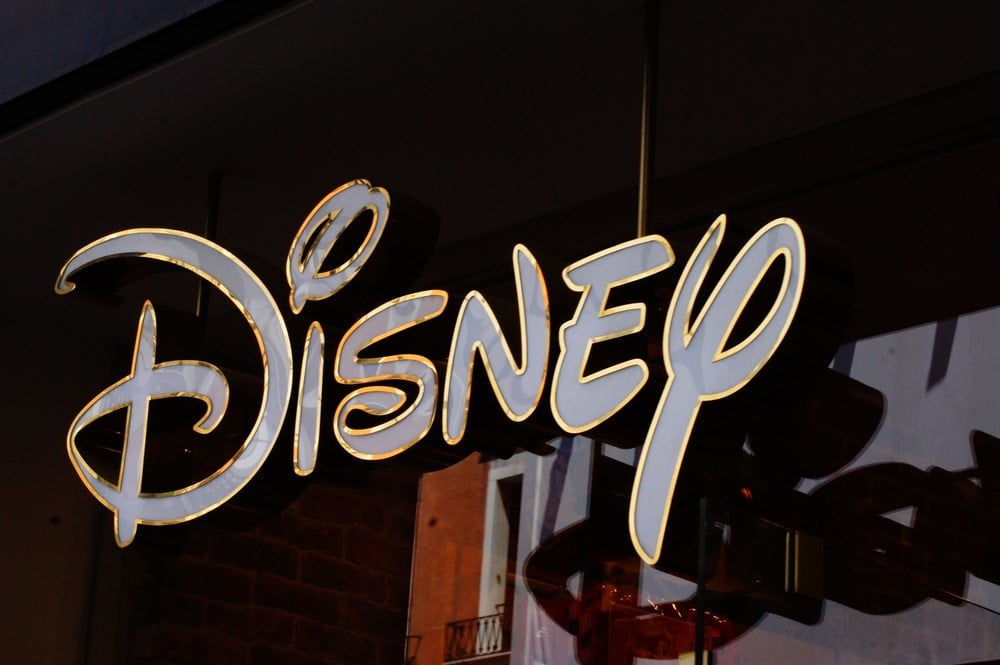 Media and entertainment giant The Walt Disney Company (NYSE: DIS) has seen a continued decline in its Disney+ subscribers and live-action box office debuts. Disney+ lost four million subscribers in fiscal Q2 2023 as memberships fell to 158 million after losing 2.4 million subscribers in fiscal Q1 2023. Disney has the second largest streaming network behind Netflix Inc. (NASDAQ: NFLX). In its fiscal Q2 2023 conference call, CEO Bob Iger stated that Disney would no longer provide long-term subscriber estimates.
However, he expects streaming services to be profitable by the end of fiscal 2024, in addition to reinstating the dividend by the end of calendar year 2023. That's a tall order considering he only has two years on his contract with no plans to stick around afterward. That would be at the beginning of the Marvel Comic Universe (MCU) Phase 6. The MCU is in a sticky structural situation that is akin to solid ground turning into quicksand. 
Continuity Conundrum
Marvel Studios and, notably, Kevin Feige changed the game regarding live-action superhero movies being box office winners. His vision of growing multiple superhero franchises with the mainstream audience pulling them in with continuity was brilliant. Continuity meant the same actor playing Captain America in an Avengers movie would be the same Captain America in a Disney+ show or a live-action motion picture.
Additionally, storylines would be connected are interwoven with Disney+ shows and MCU theatrical releases as the universe comes together.
The introduction of each member of the Avengers with their movie release and then a team-up with the Avengers movies was genius. That consistency produced through continuity made the MCU stand out versus DC superhero franchises like Superman and Batman, where the television Superman is a different actor than the movie version. Numerous actors have played Batman with no continuity with the television shows.  
The Widening Moat
Fast forward 32 movies and 9 Disney+ TV shows later, the MCU has expanded with ever more complex and connected storylines. Multiverse, quantum world, spider-verse, time variance council, and probability storms can be intriguing concepts. Still, they can also create more onerous entry barriers for new and old fans that have yet to be in the loop. The moat gets larger with each new movie and TV show and, in the process, filters out more viewers. The MCU is no longer simple but a complex and growing ecosystem that's getting harder to track.
This becomes a catch-22 for Disney as they try to appease the fanboys but still appeal to the general audience. Unfortunately, this approach has fallen flat. Movies like Thor: Love and Thunder were too comedic for hardcore fans while being confusing for general audiences. This was reflected in the box office performance.  
Stagnating Downward Trajectory
Phase 4 has marked the downward trajectory of the MCU. Its Phase 4 focus on a cosmic angle was a bust. The trend has fallen in box office numbers as movies get more complex. Doctor Strange in the Multiverse of Madness saw box office numbers fall to $411 million. Thor: Love and Thunder box office dropped to $343.3 million. Ant-Man and the Wasp: Quantumania was $212.9 million.
Turnaround?
The Guardians of the Galaxy Vol. 3 did $118.4 million at the US box office in its debut weekend, which fell (19%) behind its Guardians of the Galaxy Vol. 2 debut in 2017 at $146.5 million. The second installment went on to generate $869 million globally. The third installment completed its theatrical run generating a $773 million worldwide box just a little over a month after its release. Volume 3 was widely praised by critics and fans, much more so that earlier releases like Quantumania and Thor: Love and Thunder. However, producer James Gunn has been hired away by Warner Bros. Discovery Inc. (NYSE: WBD) to reboot its DC Entertainment Universe (DCEU).
The WGA Strikes Again
The May 2, 2023, Writers Guild of America (WGA) strike has caused its long-awaited 18-episode Daredevil: Born Again series to suspend production. Its Thunderbolts live-action anti-hero movie production was put on hold until the end of the WGA strike. The last WGA strike was in 2007, and it lasted 100 days. However, the ripple effects lasted long. For example, production for Comcast Co. (NASDAQ: CMCSA) TV series The Office was delayed for a year because of the WGA strike.
Is Less Really More?
Disney's answer to the continuity catch-22 is to release less content to improve the quality of the content. The trajectory may continue lower with that formula of less content for higher prices. Not to mention the extra $5.5 billion in cost savings that Bob Iger is trying to generate, subscribers may argue that less content is not a value proposition, primarily since Disney had raised prices to $10.99 a month for ad-free content, up from $6.99 per month when it launched in 2019. Prices are expected to increase again in 2023. No wonder Bob Iger doesn't want to provide subscriber estimates anymore.
The Walt Disney Company analyst ratings and price targets are on MarketBeat.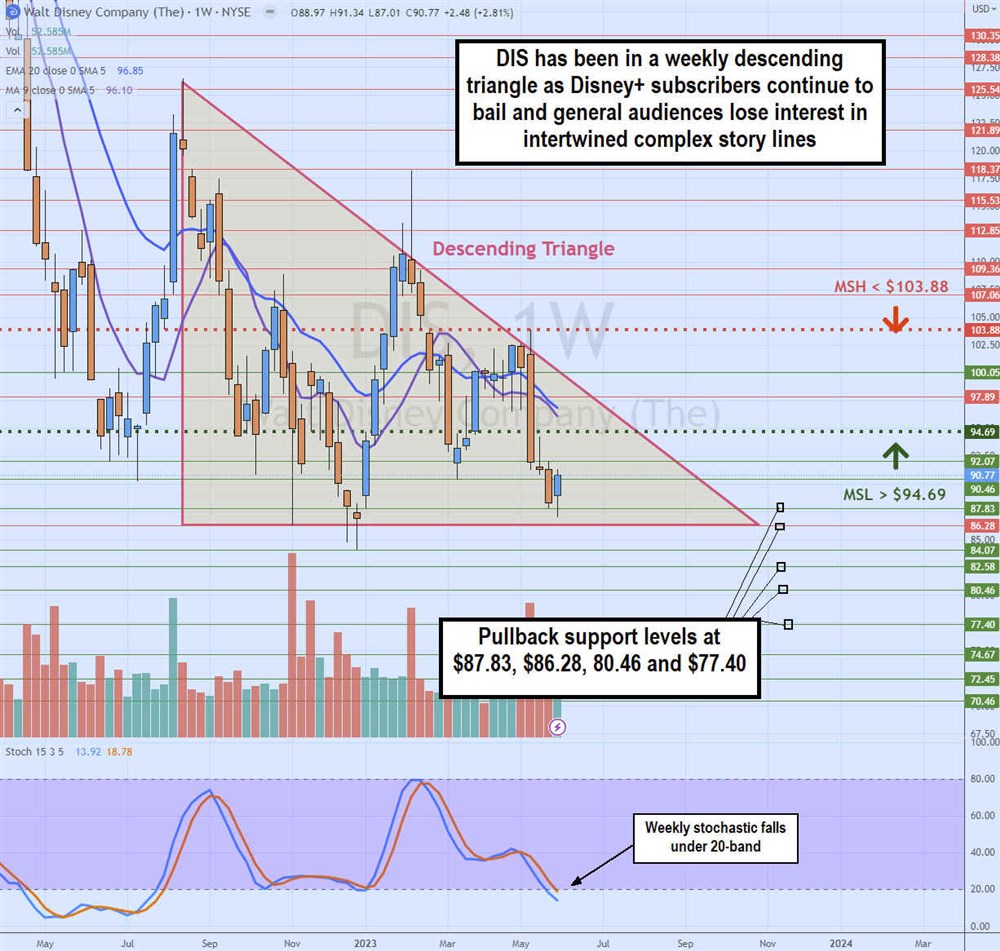 Weekly Descending Triangle
The weekly candlestick chart for DIS exhibits a descending triangle formed after peaking at $126.48 in August 2022. Shares steadily sold off to a flat-bottom triangle trendline low at $86.28 in November 2022. DIS staged a rally back to $100 before sinking again to a new low of $84.07 in December 2022. DIS staged a sharp rally on the weekly market structure low (MSL) breakout that surged shares to a high of $118.37 in February 2023, but the weekly candle still closed under the descending trendline as it formed a weekly market structure high (MSH) sell trigger on the $103.88 breakdown. The MSH trigger rejected shares hard in May 2023, falling straight through its weekly MSL towards the flat-bottom trendline of the triangle. Pullback support levels are at $87.83, $86.28, $82.58, $80.46 and $77.40.