United States - October 22, 2022 —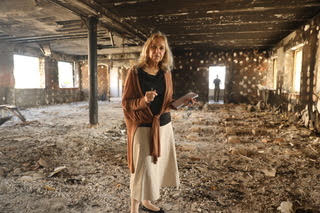 Photo Courtesy of Mitzi Perdue

Having just returned from a trip to Ukraine, humanitarian Mitzi Perdue warns of an urgent security problem taking place in the northern part of the war-torn country that could result in a global health crisis. The New York Times bestselling author explains how poachers are stealing contaminated scrap metal and deer antlers from the irradiated area around Chernobyl, the site of the 1986 nuclear power plant disaster, and selling them to unsuspecting buyers on the open market.   
Perdue, who is heiress of Sheraton Hotels and widow of the former CEO of the poultry giant Perdue Farms, Frank Perdue, discusses the cause of the problem, its far reaching health ramifications and a solution on the newest episode of Pinkston's Coffee with Closers podcast. 
The full interview can be watched here or to listen, visit: https://apple.co/3Sf09On. 
"If you have a piece of metal that's highly irradiated, it's probably not going to kill you right off. But over time—like five or six years or maybe ten years—and you have a tumor or you get blood cancer or your teeth start falling out. And you may never know that it was because of scrap metal taken from Chernobyl that entered the global market," says Perdue. 
The Exclusion Zone encompasses approximately 1,000 square miles around the site of the Chernobyl Nuclear Power Plant. It is "one of the most radioactive places in the world" and off limits to the public. Before the Russian invasion, the Chernobyl police patrolled the area to prevent poachers from stealing and reselling scrap metal left behind after the power plant disaster. 
On February 24th, the Russian forces bombed the Chernobyl police station, destroying approximately 30 police cars and severing their emergency communications. 
Mrs. Perdue visited Ukraine as a guest of Kyiv Regional Police Chief General Andriy Nebytov, where she saw the repercussions of this destruction firsthand. 
With poachers able to operate at will, Perdue says "people throughout the world are vulnerable to a global health crisis of highly irradiated scrap metal getting melted down and put into the world market." To exacerbate this issue, not every country tests their materials for traces of irradiated metal, leaving millions of people vulnerable.
According to Perdue, criminals also poach deer within the Exclusion Zone for their antlers. However, these antlers are also highly irradiated and pose a significant health threat in Asia where she says "there's a belief that horns have aphrodisiac properties and that they also have some other properties like lowering fever and things like that."    
"The deer antlers get ground up and sold as pretend horns. But those are highly irradiated. And some poor person, you know, has a face cream or something that's got antlers. I mean, they're slathering themselves with radiation that can make them ill, not the next day but over time," adds Perdue. 
Perdue is calling on automakers to step up and replace the vehicles the Chernobyl police lost so patrols of the Exclusion Zone can resume.     
"And just to use a name, it's Chevrolet cars that were destroyed by the Russians when they first invaded," she notes. "If somebody knows somebody at Chevrolet, but I don't care, any car company that would like global fabulous publicity— donate 23 cars to replace the ones that were destroyed. And here's what you'll do: You will solve a global health crisis."

Contact Info:
Name: Steve Burke
Email: Send Email
Organization: Mitzi Perdue
Address: United States
Website: https://mitziperdue.com/

Release ID: 89083582
If you detect any issues, problems, or errors in this press release content, kindly contact error@releasecontact.com to notify us. We will respond and rectify the situation in the next 8 hours.