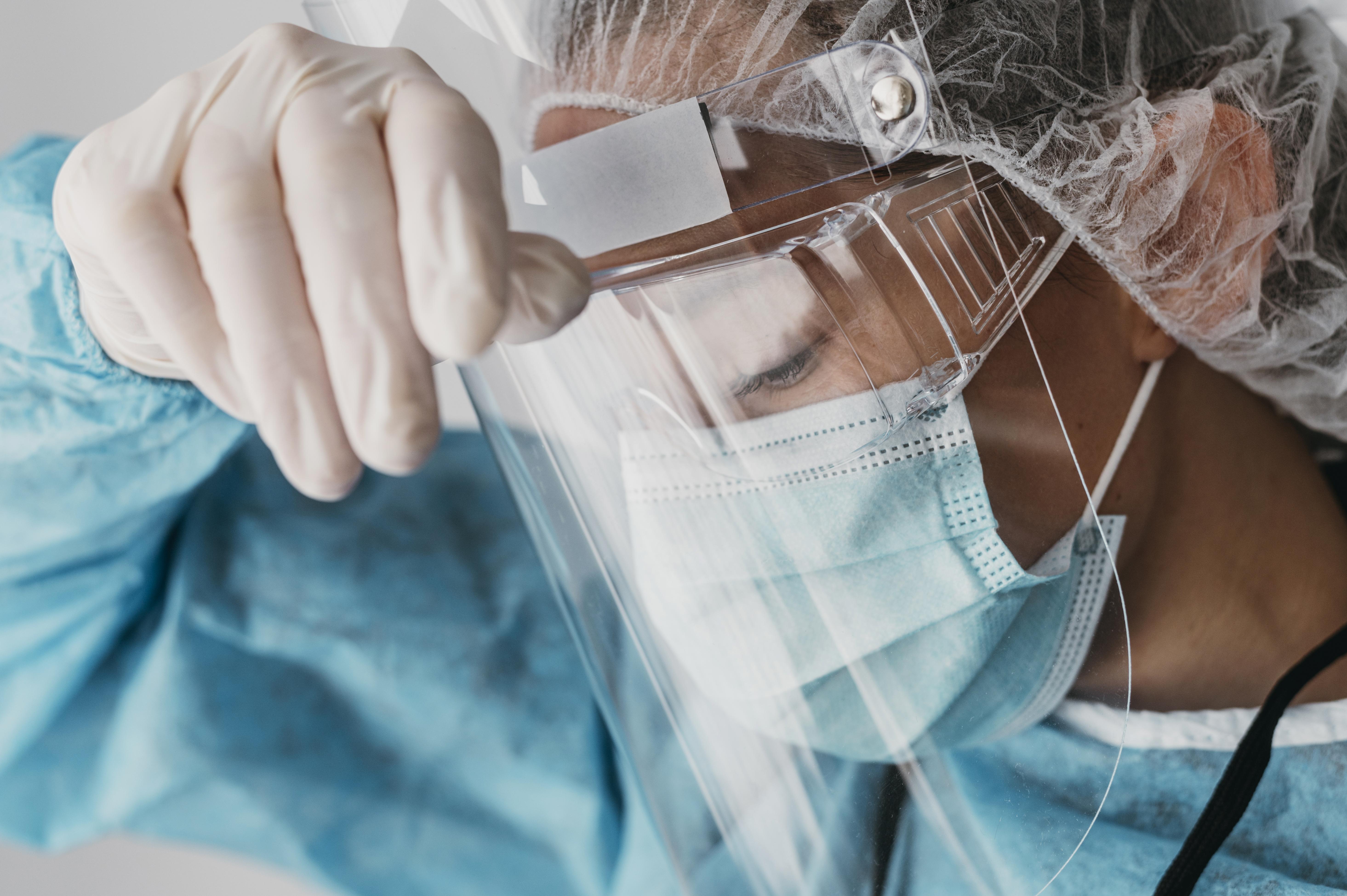 In this bear market many blue-chip healthcare stocks have been solid gainers.  Merck and biotech king Amgen are among the top performers in the Dow. S&P 500 winners include McKesson, Vertex, Eli Lilly and Cigna. Bristol-Myers Squibb and Humana are a couple of the few stocks near all-time highs.
Healthcare stocks tend to perform well in rough economic times.  That is because people generally need healthcare in any market.
There are several small and nano cap healthcare stocks that look poised to outperform.
Wearable Health Solutions, Inc. (OTCMKTS: WHSI) is an established manufacturer of Personal Emergency Response Systems ("PERS") devices in the rapidly expanding medical alarm device and eHealth sector. It provides innovative wearable healthcare products and services to dealers and distributors across the globe. 
WHSI is expected to launch its latest PERS device, the iHelp Max 4G™ in the summer of 2022. The device is a 4G cellular PERS unit with advanced features such as; fall detection, geo-fencing, AI utilizing Google Assistant and Alexa, notifications, daily check-ins, medication reminders and Remote Patient Monitoring (RPM).
WHSI is turning heads and has received a 20-cent price target from Litchfield Hills Research analyst, Theodore O'Neill.   Currently, under 2 cents per share, this would represent an over 1,000% price increase.  
Start your research on WHSI immediately:https://topnewsguide.com/wearable-health-solutions-inc-whsi-profile/
Invacare Corporation (NYSE: IVC) is another popular medical equiqment play that could see a pop.    IVC designs, manufactures and distributes medical devices that help people to move, breathe, rest and perform essential hygiene. The company's devices treat a wide range of conditions i.e. cerebral palsy, muscular dystrophy, spina bifida, stroke, spinal cord injury, traumatic brain injury, post-acute recovery, pressure ulcers, ALS, multiple sclerosis, chronic obstructive pulmonary disease (COPD), elderly, bariatric) ailments.  The company sells its products principally to home medical equipment providers with retail and e-commerce channels, residential care operators, distributors and government health services in North America, Europe and Asia/Pacific. 
IVC announced that it will participate in the 22nd Annual New Ideas Summer Conference on Tuesday, July 12, 2022.  Attending the conference will be, CEO, chairman and president Matt Monaghan, CFO and senior vice president Kathy Leneghan, and IRO Lois Lee.
SPO Global Inc. (OTCMKTS: SPOM) recently completed a merger with Gerpang Healthcare Group. whose subsidiary, Shandong Gerpang Biotechnology Co., Ltd. is an innovative and technological private enterprise located in the pharmaceutical Valley Industrial Park of Jinan High Tech Zone. Its main business scope includes Biomedical R&D, medical information software development and sales, medical high-tech introduction, medical high-quality consumables production and sales, health care products, drugs, medical equipment consumables agency and sales.
SPOM management released a statement recently relating to the company's medical devices.  SPO Global Inc.'s medical devices include low frequency therapeutic instruments and intelligent Chinese medicine decocting machines.
The company's new low-temperature small molecule lossless decocting machine combines ultrasonic negative pressure with intelligent decocting technology, ultrasonic low-temperature cold extraction and traditional heating technology.
SPOM's machines are said to "increase extraction efficiency by 2-60 times, making the small molecule Chinese medicine soup more conducive to absorption, improving the effect of the drug, shortening the extraction time, reducing the energy consumption, automating the entire process, and making liquid medicine convenient to carry and store for up to 70 days. These machines are patented in China and clients include Chinese medical clinics, facilities, and hospitals."
In the announcement SPOM also profiled its new low-frequency electrotherapy instrument using low-frequency pulse current below 1000Hz to treat diseases. "Electrical stimulation can destroy the polarization state of the membrane and cause the excitement of nerve and muscle. The frequency of 400HZ, nerve impulses-like and 140US specific pulse width and sawtooth waveform are the best combination, which is highly matched with the bioelectric field of human body in all layers of tissues. It can stimulate injured nerve repair and sports injury rehabilitation most effectively. Clients for this device include traditional Chinese medicine hospitals in Shandong."
BIMI International Medical Inc. (NASDAQ: BIMI) ("BIMI" or the "Company"), is another Chinese medical nano-cap play.  The healthcare products and services provider, announced that it will hold its annual shareholder meeting next week, July 13, 2022 at 11:00 a.m. (local time) at the offices of the Company, 9th Floor, Building 2, Chongqing Corporation Avenue, Yuzhong District, Chongqing, P. R. China. 
BIMI International Medical Inc. was founded in 2006. The Company is now exclusively a healthcare products and services provider, offering a broad range of healthcare products and related services and operates five private hospitals in China. 
From medical devices to a drug maker, Revive Therapeutics Ltd. (OTCMKTS: RVVTF) (CSE: RVV) (FRANKFURT: 31R), recently updated investors on the Company's FDA Phase 3 clinical trial to evaluate the safety and efficacy of Bucillamine, an oral drug with anti-inflammatory and antiviral properties, in patients with mild to moderate COVID-19.
Following the Company receiving positive comments from the FDA in regards to the Company's request to determine and agree on the Study's potential new primary efficacy endpoints and the Company's submission of a Data Access Plan to the FDA, the FDA has accepted the DAP to allow for the unblinding of the pre-dose selection data. The Company will now proceed to unblind the pre-dose selection data to potentially support the amended Study protocol with the new primary efficacy endpoints. The proposed new primary efficacy endpoints may include the rate of sustained clinical resolution of symptoms of COVID-19, which addresses the shift in COVID-19 clinical outcome observed over the course of the pandemic, and, therefore, to have more meaningful study endpoints for the FDA to consider for potential Emergency Use Authorization.
The above companies give investors struggling with the bear market ample upside with recession proof plays that may potentially pop.
Start your research on WHSI now:https://topnewsguide.com/wearable-health-solutions-inc-whsi-profile/
Disclaimers:  The Private Securities Litigation Reform Act of 1995 provides investors a safe harbor in regard to forward-looking statements. Any statements that express or involve discussions with respect to predictions, expectations, beliefs, plans, projections, objectives, goals, assumptions or future events or performance are not statements of historical fact may be forward looking statements. Forward looking statements are based on expectations, estimates, and projections at the time the statements are made that involve a number of risks and uncertainties which could cause actual results or events to differ materially from those presently anticipated. Forward looking statements in this action may be identified through use of words such as projects, foresee, expects, will, anticipates, estimates, believes, understands, or that by statements indicating certain actions & quotes; may, could, or might occur. Understand there is no guarantee past performance will be indicative of future results. Investing in micro-cap and growth securities is highly speculative and carries an extremely high degree of risk. It is possible that an investors investment may be lost or impaired due to the speculative nature of the companies profiled.  CapitalGainsReport 'CGR' is responsible for the production and distribution of this content. CGR is not operated by a licensed broker, a dealer, or a registered investment adviser. It should be expressly understood that under no circumstances does any information published herein represent a recommendation to buy or sell a security. CGR authors, contributors, or its agents, may be compensated for preparing research, video graphics, and editorial content. CGR is compensated three thousand dollars monthly via wire transfer by Wearable Health Solutions to produce and syndicate content related to WHSI. As part of that content, readers, subscribers, and website viewers, are expected to read the full disclaimers and financial disclosures statement that can be found on our website.
Media Contact
Company Name: Capital Gains Report
Contact Person: Mark McKelvie
Email: Send Email
City: NAPLES
State: FLORIDA
Country: United States
Website: https://capitalgainsreport.com/