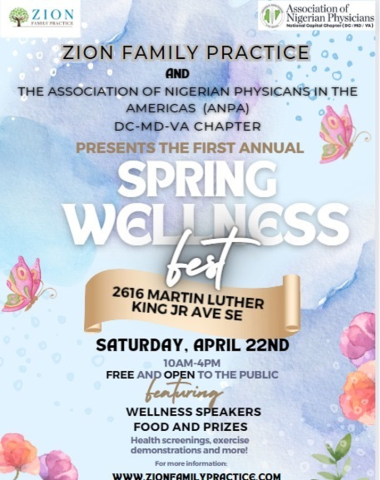 The first annual spring wellness fest organized by Zion Family Practice and the Association of Nigerian Physicians in the Americas (ANPA) DC-MD-VA- Chapter will be held on 22nd April from 10 am to 4 pm. This event is completely free and open to the public. It will be held at 2616 Martin Luther King JR AVE SE. The event features wellness speakers, food and prices, health screenings, face painting, exercise demonstrations and many more. There will also be vendors from the communities sharing information to help build the community.
Zion Family Practice is a patient-centered medical home that offers family practice services with an emphasis on education, wellness, and prevention. Zion Family Practice offers community health solutions such as healthy cooking workshops, neighborhood gardening, health coaching, fitness classes, and community health workers.
Preventive medicine (counseling and support for nutrition and lifestyle changes), Acute care visits (sick visits), Screening for and management of hypertension, diabetes and other chronic diseases Screening for breast, prostate, colon and cervical cancer, Sexually Transmitted Disease (STD) and HIV screening Immunizations and, Specialty referral are some services supplied by Zion Family Practice. Incision and Drainage of abscesses, Repair of minor lacerations, Knee joint injections, Removal of skin tags/moles, and Cryotherapy (freezing) of uncomplicated warts are the procedures done by them. Pap smears, STD screening, Breast exams, and Mammogram referral are the gynecology techniques done by them. Insurances they accept are DC Medicare, DC Medicaid, Carefirst Blue Cross Blue Shield, Carefirst Community Health Plan, AETNA, Cigna Humana, United Healthcare, and Medstar Family Choice DC and AmeriHealth will also be available soon.
Zion Family Practice currently offers health workshops to teach people healthy meals to eat and foods to avoid in order to improve their health and to prevent disease. They are devoted to delivering top-notch patient care and effective healthcare outcomes. Zion Family Practice wants to empower patients and the community by educating them on wellness and prevention so they may actively engage in and manage their own health.
The Association of Nigerian Physicians in the Americas comprises of 190 physicians in the DC-Maryland-Virginia area who served these communities with passion. The current chair of the organization, Dr. Ebere Azumah a board certified Ob/Gyn and a Public Health Professional is happy to collaborate with Zion Family Practice to provide free health care screening and education. The goal of ANPA is to make our communities both in Nigeria and in the Americas healthier.
Media Contact
Company Name: ANPA
Contact Person: Dr. Ebere Azumah
Email: Send Email
Country: United States
Website: https://www.zionfamilypractice.com/