-Q1 2023 Revenue of $9.7M, up 114% from Q4 2022

-Q1 2023 Adjusted EBITDA of $726K, up 175% from Q4 2022
-Positive cashflow from operations
VANCOUVER, British Columbia, May 02, 2023 (GLOBE NEWSWIRE) -- LEEF Brands, Inc. (CSE: LEEF, OTC: LEEEF) ("LEEF" or the "Company"), a leading cannabis brand operator, announced today the release of its audited financial statements for the year ended 2022 along with the unaudited first quarter of 2023.
First Quarter 2023 Highlights
Net Sales of $9.7M increased 114% from Q4 2022 and 31% from Q1 2022
Gross Profit of $3.5M increased 96% from Q4 2022 and 15% from Q1 2022
Gross Margin of 36% increased 1% from 2022 average
Adjusted EBITDA of $726K
Full Year 2022 Highlights
Net Sales of $27M, a decrease of 19% from full year 2021
Gross Profit of $9.6M, an increase of 14% from full year 2021
Gross Margin of 35%, an increase of 10% from full year 2021
Adjusted EBITDA of $($2.7M)
Operational Highlights
The Company had Q1 2023 revenue of $9.7M, an increase of 114% compared to the fourth quarter.
The Company successfully closed the acquisition of The Leaf retail store in Palm Desert California and has seen a positive effect to both topline and bottom-line growth.
The Company entered into an exclusive sales and licensing agreement with Buddies Brand, one of California's top selling brands.
The Company implemented cost savings measures culminating in overall non-recurring operating expense savings of approximately $3.3M including the closure of redundant facilities in Sacramento and Concord and transferring all operations therein to the Company's state of the art Willits facility, located in a more favourable local tax jurisdiction.
The Company made a significant investment in a new extraction line, Solventless concentrates, improving the overall product offering LEEF Labs offers its customer base. Solventless concentrates are one of the fastest growing market segments in the California cannabis retail segment.
The Company has significantly expanded the number of doors in which its Ganja Gold, Real Deal Resin and HEADY products are distributed into. LEEF Brands sold into more than 550 retail locations in 2022 – a 267% increase year over year.
Management Commentary
"Despite the overall difficult landscape of the California cannabis industry during 2022, our first quarter results demonstrate that LEEF's growth strategy is delivering positive results in a market that is recovering from many challenges," said Micah Anderson, CEO of LEEF. "With many of the larger MSO's leaving the state, we remain optimistic about the future of the cannabis industry in California and are committed to maintaining our position as a leader in the market. I am proud of our team and how we have worked together to navigate the difficult landscape. The year 2022 was challenging for the entire cannabis industry. From an operations standpoint, I believe we have seen the bottom in pricing in California. According to the Department of Cannabis Control, 35% of testing labs, 19.4% of cultivators, 14.6% of distributors, 19.1% of manufacturers and 11% of retailers did not renew their licenses in 2023[1]. As unfortunate as this is for some of our fellow colleagues, this will strengthen the supply and demand dynamics for operators in the California cannabis market."
"LEEF's strong Q1 2023 results reflect our continued focus on financial discipline and executing on our core competencies," said Kevin Wilson, CFO of LEEF. "The management team of LEEF engaged in a number of initiatives focused on operational improvements which yielded positive results in the first quarter. We expect these improvements to continue to drive operational performance moving forward."
Select Financial Highlights
Q1 2023 Adjusted EBITDA (non-IFRS)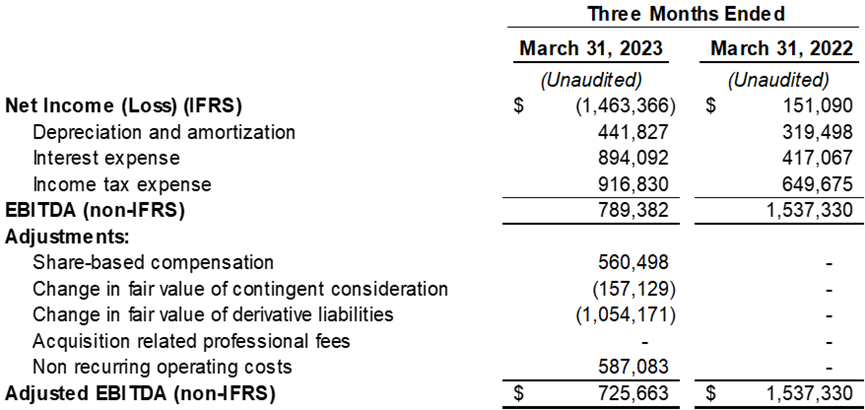 2022 Adjusted EBITDA (non-IFRS)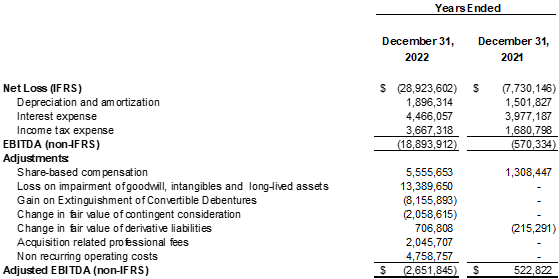 LEEF's full audited financial statements for the full year 2022 and the first quarter of 2023 are available on the Company's website at www.leefbrands.com and under the Company's profile at www.sedar.com.

The Company is also pleased to announce the appointment of Ben Slome to the board of directors as an independent director. Mr. Slome will fill the vacancy left by Mr. Kou's resignation in March 2023. Mr. Slome has been an investor and operator in the cannabis business for the last seven years, having held multiple positions with Cookies and Bell Rock Brands during that tenure.
In addition, the Company issued 5,083,983 common shares to satisfy the working capital adjustment payment required as part of The Leaf at 73740, LLC. transaction that closed on January 11th, 2023.
About LEEF Brands Inc. (formerly, Icanic Brands Company Inc.)
LEEF Brands Inc. is a leading California based extraction and manufacturing cannabis company. LEEF is owned and managed by some of the best legacy operators in the industry and is one of California's largest and most sophisticated cannabis companies. The Company's platform consists of an integrated supply chain, state of the art manufacturing, industry leading brands, and a robust bulk concentrate portfolio that powers some of the largest brands in California. The Company's vision is simple, produce best-in-class products to the cannabis consumer. The Company's mission is to build a great cannabis company with great people and great results. For more information, please visit the company's website at www.LeefBrands.com.
LEEF BRANDS INC.
Per: "Kevin Wilson"
Chief Financial Officer
SOURCE LEEF Brands, Inc.
For further information: LEEF Brands, Inc., Micah Anderson, CEO, or Kevin Wilson, CFO, 416-797-6455, ir@leefca.com
[1] https://www.northbaybusinessjournal.com/article/industrynews/california-sonoma-county-see-fewer-cannabis-growers-licensed/
Non-IFRS Financial Measures
LEEF Brands, Inc. defines EBITDA as Net Loss (IFRS) adjusted for interest and financing costs, income taxes, depreciation, and amortization. Adjusted EBITDA is defined as EBITDA excluding share-based compensation, loss (income) on equity method investments, change in fair value of derivative liabilities, change in fair value of contingent liabilities, acquisition related professional fees, and non-operational start-up costs.
EBITDA and Adjusted EBITDA are presented because management has evaluated the financial results both including and excluding the adjusted items and believe that the supplemental non-IFRS financial measures presented provide additional perspective and insights when analyzing the core operating performance of the business. Such supplemental non-IFRS financial measures are not standardized financial measures under IFRS used to prepare the Company's financial statements and might not be comparable to similar financial measures disclosed by other companies and, thus, should only be considered in conjunction with the IFRS financial measures presented herein.
The Company has provided a table above that provides a reconciliation of the Company's net loss to Adjusted EBITDA for the year ended 2022 compared to the year ended 2021.
Forward Looking Statements
This news release contains certain forward-looking information and forward-looking statements, as defined in applicable securities laws (collectively referred to herein as "forward-looking statements"). Forward-looking statements reflect current expectations or beliefs regarding future events or the Company's future performance or financial results. All statements other than statements of historical fact are forward-looking statements. Often, but not always, forward-looking statements can be identified by the use of words such as "plans", "expects", "is expected", "budget", "scheduled", "estimates", "continues", "forecasts", "projects", "predicts", "intends", "anticipates", "targets" or "believes", or variations of, or the negatives of, such words and phrases or state that certain actions, events or results "may", "could", "would", "should", "might" or "will" be taken, occur or be achieved. 
Although the Company believes that the expectations expressed in such statements are based on reasonable assumptions, such statements are not guarantees of future performance and actual results or developments may differ materially from those in the statements. There are certain factors that could cause actual results to differ materially from those in the forward-looking information, including financial and operational results not proving to be as expected or on the timelines expected; the Company not completing certain proposed acquisition or financing transactions at all, or on the timelines expected; the Company not achieving the synergies expected; and other risks disclosed in the Company's Annual Information Form and other public filings on SEDAR at www.sedar.com Accordingly, readers should not place undue reliance on forward-looking statements.
For more information on the Company, investors are encouraged to review the Company's public filings on SEDAR at www.sedar.com. The forward-looking statements and financial outlooks contained in this news release speak only as of the date of this news release or as of the date or dates specified in such statements. The Company disclaims any intention or obligation to update or revise any forward- looking information, whether as a result of new information, future events or otherwise, other than as required by law.
Photos accompanying this announcement are available at:

https://www.globenewswire.com/NewsRoom/AttachmentNg/aa5d33aa-4d3c-4d71-9d89-799781ffea49
https://www.globenewswire.com/NewsRoom/AttachmentNg/04e2f593-87b5-483f-b2f3-e2c615e627c1