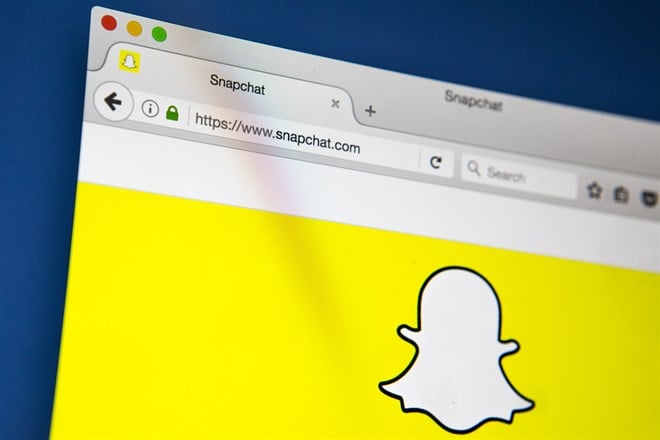 Social media platform Snap Inc. (NYSE: SNAP) stock has fallen to pandemic lows as it collapsed (-77%) in 2022. The fallout from advertisers pulling back their digital advertising spend has been the key reason for the growth slowdown in America. However, the platform continues growing internationally with a 22% YoY growth in its Q3 2022 earnings performance.
While it is growing at 6% YoY, it's still losing money on a GAAP basis despite posting an adjusted EPS beat by $0.09. While it's not experiencing triple-digit growth, it is still maintaining double-digit growth, with its daily active users (DAU) climbing 19% YoY to 363 million. While U.S. user growth slowed, it's still growing strong internationally.
Competing with Facebook and Falling ARPU
The average revenue per user (ARPU) fell to $3.11 compared to $3.49 in the year-ago period. This is attributed to the pullback of digital advertising, but the increase in users also takes the average. Snap has many factors that could lead to a strong 2023. Naturally, if the digital advertising market snaps back, it will benefit.
The Trade Desk Inc. (NYSE: TTD) is showing signs of a flattening of the advertising reversion. Meta Platforms Inc. (NASDAQ: META) is the leading social media company, with Facebook, What's App and Instagram hosting over 3 billion users worldwide.
Stock Based Compensation is Dilutes the Shareholders
Snap continues to grow but so do the outstanding shares. It is paying out a ton in stock based compensation, which is growing the float and diluting the price. However, the Company has authorized a $500 million stock buyback program which should slow further dilution.
Privacy Policies Hurt Ad Spend
One big reason for the downfall of Snap shares was the prohibitive nature of new privacy policies adopted by Apple Inc. (NASDAQ: AAPL) and Alphabet Inc. (NASDAQ: GOOGL) owned Google Android limiting the data collected from its users.
This was the initial blow to revenues as advertisers cut their marketing budgets. Any rebound in digital ad spend is good for Snap.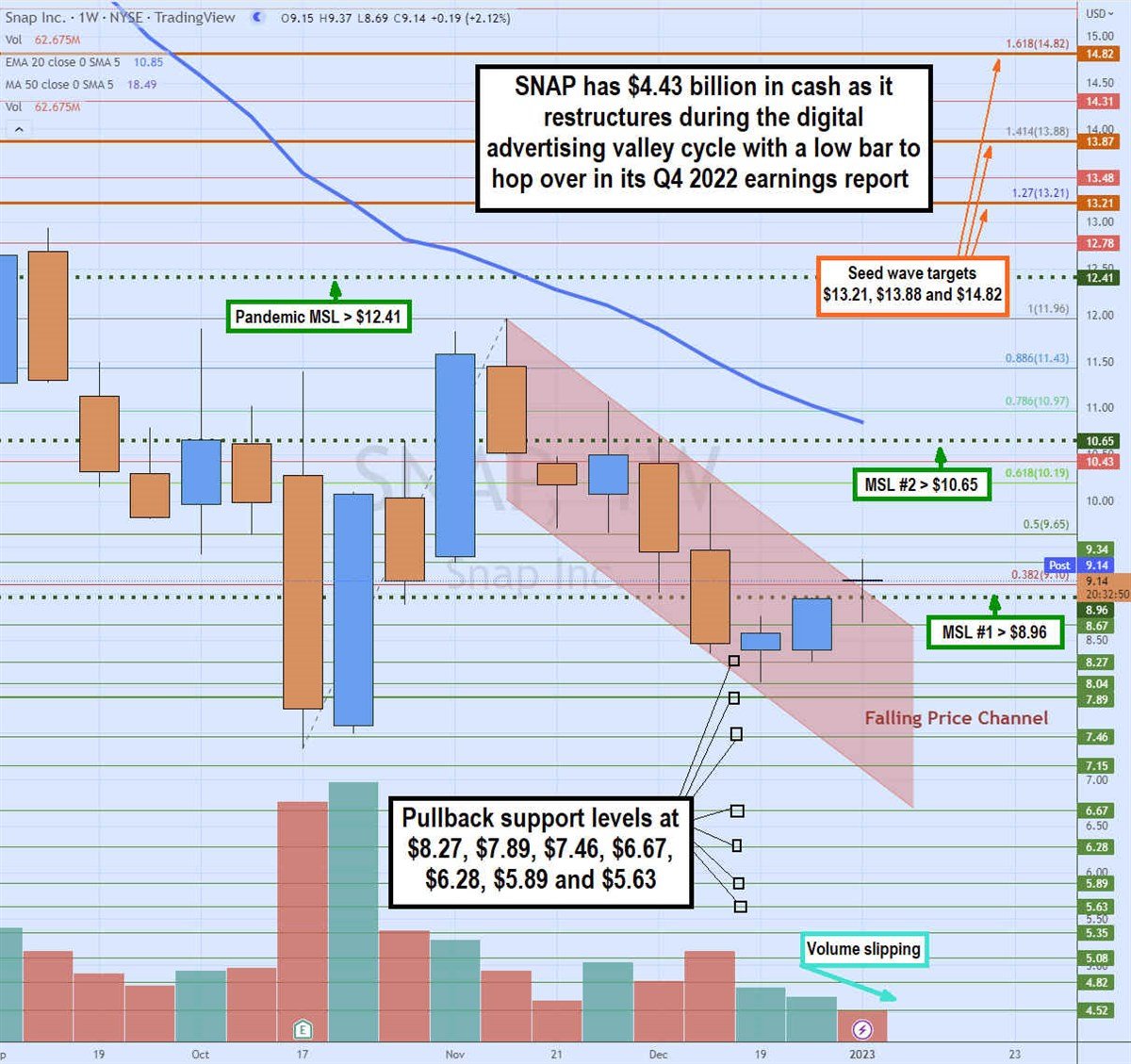 Weekly Seed Wave
SNAP stock fell under its pandemic lows of $7.89 before coiling higher on its Q3 2022 earnings results. Shares peaked at $11.98 as a falling price channel formed in November 2022. Shares continued to make lower highs on bounces and lower lows on drops before putting in a spinning top bottom and the first weekly market structure low (MSL) trigger on the breakout through $8.96 in December 2022.
The weekly 20-period exponential moving average (EMA) continues to fall at $10.85. The second weekly MSL trigger formed on a $10.65 breakout. This would trigger a weekly seed wave composed of sequentially higher MSLs. The upside targets are the Fibonacci (fib) extension levels known as potential reversal zones (PRZs). The first 1.27 fib PRZ sits at $13.21, the 1.414 fib PRZ sits at $13.87, and the 1.618 fib PRZ sits at $14.82. The pullback supports levels sit at $8.27, $7.89 pandemic lows, $7.46, $6.67, $6.28, $5.89, and $5.63
TikTok's Loss is Snap's Gain
While TikTok is arguably the leader in video social media, there's growing negative sentiment against the Chinese-owned company to the point of being a national security concern. Congress has pushed for a ban on Tik Tok on any government-issued phones. They are pushing to ban TikTok completely in the U.S. This would be a boon to Snap and Meta Platforms to gain more users. However, it is worth noting that consumers tend to use multiple social media apps, so it's not a zero-sum game. 
Snap Cut Costs by $500 million Through Layoffs
Snap trimmed down its workforce by (-20%) or 6,400 workers, to cut (-$500 million) from annual expenses. Additionally, it implemented a $500 million stock buyback to help trim down the outstanding shares. The Company took a (-$155 million) charge in Q3 2022 for this expense.
Snapchat+ Subscription Plan
Unlike Twitter and other social platforms, Snap has been able to roll out a subscription plan expected to grow to 10 million users by the end of 2023. Snapchat+ is a $3.99 per month pay service that generates recurring revenues and grew to over 2 million subscribers within months of its release. Snapchat+ offers exclusive experimental and pre-release features. It is planning to continue rolling out its expansion to more countries.
Augmented Reality Development
Snap has always focused on beefing up with augmented reality (AR) services, especially its cameras. It has developed partnerships with brands like Dior, Gucci, and Adidas, putting it ahead of its competitors. Even though Meta has Oculus virtual reality headsets, Snap is ahead of competitors in implementing augmented reality technology. AR is less hassle than buying and wearing expensive headgear and being chained to a PC.
Snap Dominates the Gen-Z Demographics
Younger audiences have been the target groups for Snapchat and its advertisers. There are estimates that 90% of the 13- to 24-year-old demographic are active Snapchat users and 75% of 13 years to 34-year-old population. According to Snap, this includes the demographics of the U.S., U.K., Australia, France, and the Netherlands. Meta Platform's Instagram has 70% of the 13-year to 34-year-old population also on their platform.
Meta collects ARPU of $9.41 versus $3.11 for Snapchat. Snap can't be ruled out as a potential acquisition target and likely the most affordable in the public markets at $14.74 billion compared to Pinterest Inc. (NYSE: PINS) at $16 billion and Meta Platform at $333 billion.
Growth Engine Slowing Down
On October 20, 2022, Snap released its fiscal third-quarter 2022 results for September 2022. The Company reported an adjusted earnings-per-share (EPS) profit of $0.08, excluding non-recurring items versus consensus analyst estimates for a loss of (-$0.01), beating estimates by $0.09.
Revenues rose 5.7% year-over-year (YOY) to $1.13 billion, matching analyst estimates for $1.13 billion. Daily active users rose 19% YoY to 363 million, sequentially higher than the 18% growth in each Q1 and Q2 2022. Spotlight viewing time rose 55%. The Company authorized a $500 million buyback program.
CEO Comments
Snap CEO Even Spiegel commented. "This quarter, we took action to further focus our business on our three strategic priorities: growing our community and deepening their engagement with our products, reaccelerating and diversifying our revenue growth, and investing in augmented reality.
The growth of our community to 363 million daily active users, an increase of 19% year-over-year, continues to expand our long-term opportunity as we navigate this volatile macroeconomic environment."
Setting the Bar Low Low
Due to an uncertain economic environment, the Company declines to provide formal Q4 2022 guidance. However, Snap's internal view expects Q4 to have flat YoY revenues, which comes out to $1.3 billion, which falls short of the $1.38 billion consensus analyst estimates. Setting the bar low for Q4 2022 could be a stimulus to breakout the shares back up through $10 if they beat by a wide margin and indicate that the ad spend slowdown has plateaued.