Valley Mother and Daughter Raise Awareness for Vascular Birthmarks in New Children's Book.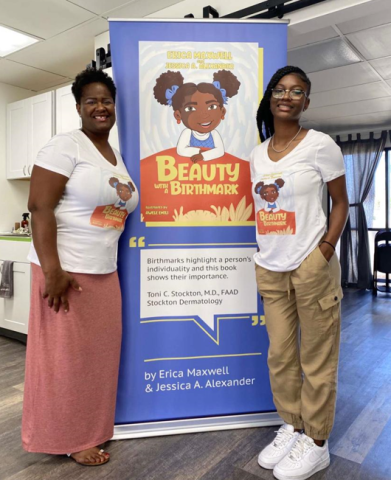 PHOENIX, AZ - Annually, one in ten infants are born in the U.S. with a birthmark, also called a vascular anomaly. According to Vascular Birthmarks Foundation (VBF), of the 40,000 children impacted each year, nearly 70 percent require some form of intervention by a medical specialist.
Recent high school graduate, Jessica Alexander, was one of those children 18 years ago. Her parents struggled to get information on her prominent birthmark and find support for their daughter. Her mother, Erica Maxwell, recalls, "When Jessica was eight years old, we were walking to a soccer field for a playdate. My heart sank when she told me her birthmark was ugly, she didn't like it, and she knew I thought it was ugly too." As a concerned parent and a certified educator for more than 25 years, Erica was determined to learn more about birthmarks and to inform others of their potential impact on children and their families.
It took nearly a decade before the family found relief through meeting Toni C. Stockton, M.D., FAAD of Stockton Dermatology in Phoenix. Dr. Stockton determined Jessica's birthmark was Nevus of Ota, a hyperpigmentation that occurs on the face, most often appearing on the white of the eye, which explained the two spots on Jessica's right eye.
"Beauty with a Birthmark" is a new children's book by this mother-daughter duo that lovingly captures Jessica's childhood experiences with a distinct facial birthmark. They co-authored the book to elevate and celebrate the beauty of Jessica's birthmark journey through stories highlighting self-love, resilience,  and diversity.
Dr. Stockton said, "Birthmarks highlight a person's individuality, and this book shows their importance."
"This delightful book is vital for building children's self-esteem as they learn to fully embrace themselves and what makes them unique. It's an integral part of any home library as an important child development tool that teaches empathy, understanding, and acceptance - key character traits that can greatly reduce the likelihood of bullying," said Dr. Judith Outten, a licensed and board-certified Adult, Child and Adolescent Psychiatrist at Springfield Psychological in Philadelphia.
Signed copies of "Beauty With a Birthmark" are available for a limited time at Barnes and Noble, Chandler Mall, 3111 W. Chandler Blvd. Chandler, Arizona.
Books are available through Amazon and Barnes and Noble. Erica and Jessica are available for book signings, speaking, and other events; a teaching guide will also be available this fall.
You can learn more about Beauty with a Birthmark and its authors on the book's website
or you can follow us on Facebook and Instagram.
Media Contact
Company Name: Mane Strategies
Contact Person: Joseph Early
Email: Send Email
Phone: 602-716-1141
City: Phoenix
State: AZ
Country: United States
Website: https://beautywithabirthmark.com