With a focus on developing critical thinking skills and promoting positive decision-making, the training provided an engaging and interactive learning experience for students of all skill levels
FwC Community Services recently hosted a free chess training event as part of its efforts to reach out to young people in Chicago and surrounding communities. Children on Chicago's West Side often face challenges that can negatively affect their development. The free chess training captioned "Chess Against Violence," was held to help these children learn how to think before acting.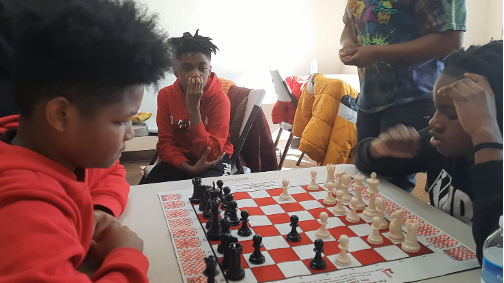 The event was a fun and engaging program that taught children the basics of chess and helped them develop critical thinking, problem-solving, and decision-making skills. Children learned how to develop a plan of action, think about the consequences of their actions, and make informed decisions. These skills help reduce rash and impulsive actions that may lead to violence. The program also related chess tactics and strategies to real-life situations to further develop life skills.
JLM Center at 2622 W. Jackson provided the classroom used for the event free of charge. In attendance was Representative LaShawn Ford who currently serves Illinois's 8th congressional district, which includes Chicago's west side. Representative Ford presented trophies and participation certificates and spoke with the students.
Students also learned about the contribution that North African Moors made to the development of the game of chess (see Short clip and long clip). Additionally, participants also learned of contributions made by African Americans during the 1800s and 1900s and about current Chess Grand Masters with African roots. They had fun taking part in interactive activities. Photos and videos are available.
"My grandchildren enjoyed this event and are excited about playing chess," said Ms. Davies, a resident of Chicago West Side. "They could not stop talking about it and are looking forward to the next tournament."
Ms. Jefferson stated.
"Instructor Vincent W. overcomes challenging learning situations by re-engaging students who become distracted. We will continue to practice on the (online) Fun with Chess system, and they are definitely looking forward to the next FWC tournament."  
FwCCS gave all students free one-year subscriptions to the Fun with Chess Learning System, so students can continue learning and playing online. FwCCS is excited to offer this fun and educational opportunity to south and west side students. The organization hopes that events like this will help students become better citizens of the community.
For more information, including becoming a donor or sponsor, please contact FwC Community Services, Inc., or Youth Development Systems (Fun with Chess Learning System). Please call Ralph Jones at the number below.
Media Contact
Company Name: FwC Community Services, Inc.
Contact Person: Ralph Jones
Email: Send Email
Phone: 800-906-0759
Country: United States
Website: http://www.fwcservices.org/