Kerima Richardson, also known as, Kay$rich was born and raised in Jersey City, New Jersey. Since Kerima was a child, everyone in her community has felt she was a natural-born leader. As far as she can remember her mother, would bring her to many non-profit organizations to assist in giving back to their neighborhood. She participated in soup kitchens, Chinese auctions, makers markets, and many senior events throughout her young adult life. Being a strong activist, she found herself being a creator and a lover of the arts. She continued to reenact impersonations and comedy, and perform skits with many of her friends until she found out she was pregnant with her firstborn.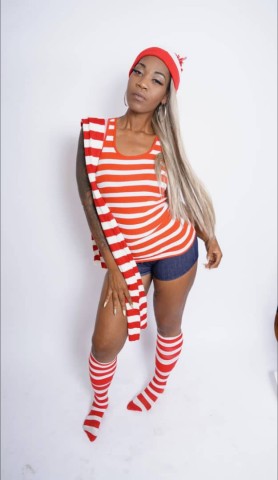 Kerima's life changed when her daughter got diagnosed with refractory complex migraine syndrome, often becoming very ill and having to stop traditional activities. This caused her to be homeschooled for some time. Her daughter has a passion for the hair and makeup industry and quickly started doing makeup, at the age of 16 while participating in Miss New Jersey Teen USA. As time went on, Kerima's daughter was her inspiration to get back into the arts and become a creator again. From this point forward Kerima's main focus was personal freedom and creating a powerful life for her family and her community.
With help from a friend, Julz Cortez, she started her creative journey with modeling and got published in her first magazine within the first week. With strong encouragement from her family, Kerima decided to take her entrepreneurship seriously despite her age. Kerima quickly started becoming an artist manager for her nonbiological son (Micultra) which sparked her creativity now she's recording music, curating fashion shows, acting, modeling, as well developing her very own app. (The Rich Network) Very recently Kerima has even begun her acting journey and created her very own web series alongside Harry O! The series is called 'Meet The O's". The series is a romantic comedy and will be available on The Rich Network, launching on Roku, Amazon, and Apple TV in August of 2022. You can find kay$rich on all music platforms if you're looking to book her please contact her @KayslayAllday 
Kerima's ultimate goal is to fuse her entertainment world and the community work and bring it all together to help as many people as she could through the arts, festivals, and much more! She believes that everyone should embrace unity and become rich, not rich financially but have a rich and powerful mindset. Kerima strives to remind others to be the change they want to see in the world. Now that's rich!
Media Contact
Company Name: Jersey Media
Contact Person: Joe Fucarino
Email: Send Email
Country: United States
Website: http://jersey-media.com/