Austin, TX - Attention all seekers of knowledge and inspiration! The Week of Kindness and Gratitude is back by popular demand for the fifth time, and this time it's bigger and better than ever. Presented by Standout Stars Speakers Bureau, this virtual event will feature a lineup of 14 keynote speakers and over 50 experts, who will be sharing their wisdom, tools, and experience in eight different categories, including Business Development, Author Development, Podcast Production, Wealth Mastery, Sales & Lead Gen, Health & Wellness, Personal Development, and Spirituality.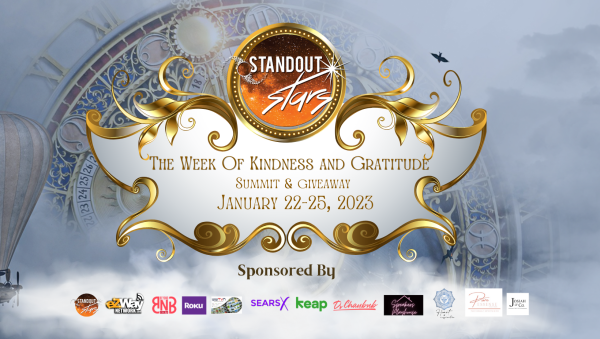 Starting this Sunday, from January 22-25 The Week of Kindness will be completely free to join. This is made possible by our amazing sponsors including Keap, SearsX, and Roku. For anyone who would love to access this information for self and business mastery over the next 365 days, it will be available with VIP purchase for just $97.
Attendees will have the opportunity to learn from industry leaders, authors, healers, and coaches from all over the planet, all coming together to share their stories, strengths, and motivations for changing the world. As an added bonus, there will also be a virtual gift giveaway for attendees.
Toni Munoz-Kaufman, CEO of Standout Stars Speakers Bureau and Summit co-producer says "We bring over $45k in free gifts to our attendees from our speakers in over 16 countries." She continues, "We highlight their stories, their strengths and their motivations for trying to change their world and why it is such an important part of our lives."
She is accompanied by co-producer Dr. Lisa Brewer, Founder of Heart of Inspiration and Magic Touch Branding. Lisa and her team are dedicated to educating and empowering spirit-based business owners and entrepreneurs to reach their true potential through business development, branding, and growth through social media strategies.
Standout Stars Speakers Bureau is dedicated to helping undiscovered experts step out of the shadows and into the spotlight. Founded by noted media expert Toni Kaufman, Standout Stars features a speakers bureau, newsletter and event listings, helping emerging speakers develop into Standout Stars.
For more information, visit https://wok.weekofkindness.com/ or join the conversation by using the hashtag #WeekOfKindnessAndGratitude.
Media Contact
Company Name: Standout Stars Speakers Bureau
Contact Person: Toni Munoz-Kaufman
Email: Send Email
Country: United States
Website: https://wok.weekofkindness.com/