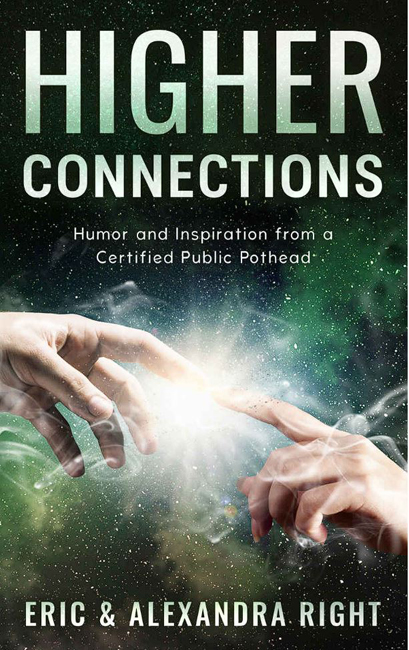 An enlightening, comedic memoir and self-help guide, "Higher Connections: Humor and Inspiration from a Certified Public Pothead" by Eric and Alexandra Right has been selected for Mariel Hemingway's Book Club, a curated collection of excellent fiction and nonfiction that spans styles and genres. The most recent addition, "Higher Connections," sheds light on the positive effects of cannabis, and aims to remove the stigma that remains in much society despite broad legalization and scientific research. 
Through funny anecdotes, firsthand experiences, and exploring medicinal and spiritual benefits, the authors erode negative stereotypes and prompt readers to examine their own assumptions. This is a great read for anyone curious about trying cannabis, or for people simply looking for an entertaining, illuminating read! 
Mariel Hemingway, Oscar nominated actress, bestselling author, and granddaughter of the legendary Ernest Hemingway, says that "Eric provides readers with an interesting perspective on how cannabis emotionally opened up his relationship with his wife and children. I was intrigued by how observant he became in every aspect of his brain function." 
This lighthearted, yet deeply informative book is available exclusively through Amazon. Learn more about "Higher Connections: Humor and Inspiration from a Certified Public Pothead" and Mariel Hemingway's Book Club here: https://mindstirmedia.com/mariel-hemingway-book-club/
About MindStir Media:
MindStir Media LLC is an award-winning book publisher. To learn more about publishing a book with MindStir Media, visit http://mindstirmedia.com or call 800-767-0531.
Media Contact
Company Name: MindStir Media LLC
Contact Person: Jen McNabney
Email: Send Email
Phone: 800-767-0531
Address:1 New Hampshire Ave Suite 125
City: Portsmouth
State: NH
Country: United States
Website: https://mindstirmedia.com/