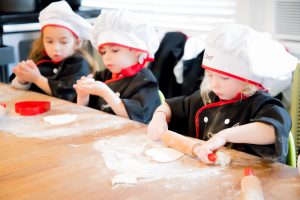 Pleasant Hill, California – My Spanish Village is a full-time Spanish immersion school that offers a bilingual education for preschool, kindergarten, and elementary school children.
After great success and 17 years in the business, My Spanish Village has decided to expand to another location in Pleasant Hill and has renovated an outdated daycare facility into a clean, colorful space for children to learn and grow as they develop.
Director and Owner of My Spanish Village, Ita Perez said, "We have been supporting families by educating their children since 2006 with our 100% Spanish Immersion program, so it was about time to grow our escuelita. With that in mind, we also wanted to expand our educational curriculum and launched our elementary school starting with first grade. Many families wanted to continue their children's education in Spanish but struggled to find a local school to support their needs. Thus, My Spanish Village Elementary school was developed."
My Spanish Village has opened enrollment for their new facility in Pleasant Hill for children aged 18 months to second grade and currently has available spots in the red, blue, green, kindergarten, first-grade, and second-grade classrooms.
A 100% Spanish Immersion Program
My Spanish Village has been providing exceptional language education to young children for over 17 years. The school's proven track record of success has attracted families from all over the region, including Pleasant Hill, Concord, Walnut Creek, Martinez, Lafayette, and even Benicia.
The academic program at My Spanish Village was developed with the ultimate goal of instilling basic reading, writing, and maths skills by age 4, and the school believes that bilingual education is both possible and enjoyable when approached with enthusiasm, energy, and a fun attitude.
At https://www.myspanishvillage.com/, you will find a variety of academic programs that are uniquely tailored towards your child's age but that all share the same goal of establishing a strong foundation for social and academic learning to help your child succeed through their educational journey.
Preschool
My Spanish Village offers a full-time preschool that gives children the necessary skills to help prepare them to cope in the current competitive world, but also the excitement they want and need, which will make parents' time at home much more relaxed.
At My Spanish Village – Pleasant Hill Preschool, parents can rely on responsible, dedicated, and well-organized childcare with many stimulating and engaging activities, such as dance, gymnastics, art, ceramics, science, and cooking.
Summer Camps
My Spanish Village hosts summer camps every year for children starting at 18 months up to third grade.
The school's team of experienced teachers has designed a series of day-to-day activities and imaginative play programs, such as art, dinosaurs, bug's life, exploring Latin cooking, and crazy science, that is perfect for many families.
Elementary School
The elementary school at My Spanish Village has been recently developed to cater to recently graduated students who want to continue learning the language.
My Spanish Village is an elementary school that offers an integrated approach to learning and operates as a regular private school with small classes and phenomenal teachers who provide targeted education using an exemplary curriculum.
The school prides itself on promoting a culture of positivity, caring for its students and community, and keeping the Spanish immersion alive. Additionally, My Spanish Village believes this nurturing environment fosters students' love of learning, which fuels their academic success.
More information
To learn more about My Spanish Village and its preschool, summer camps, and elementary school enrollment options, please visit the website at https://www.myspanishvillage.com/.
Source: https://thenewsfront.com/my-spanish-village-expands-to-new-location-in-pleasant-hill-california/
About My Spanish Village
At My Spanish Village, we work to go beyond just teaching another language. We also want our students to grow and develop as healthy, kind human beings. We created our own methodology to ensure that each child develops at his or her own pace.
Contact My Spanish Village
1601 Mary Dr
Pleasant Hill
CA 94523
United States
(925) 822-4871
Website: https://www.myspanishvillage.com/