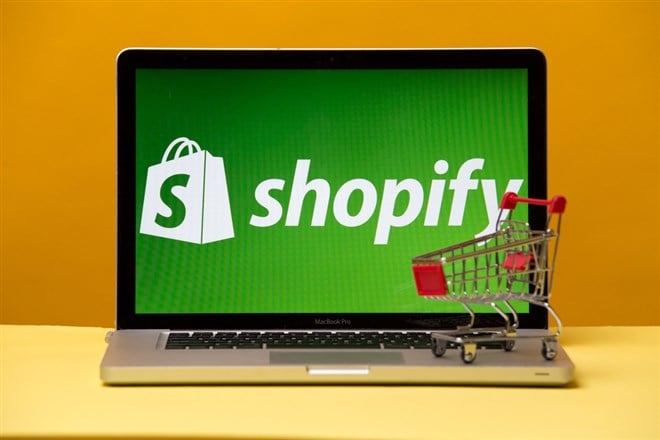 E-commerce infrastructure platform Shopify Inc. (NYSE: SHOP) stock has dropped over 14% since its Q4 2022 earnings release. While the fourth-quarter performance was impressive, the cautious Q1 2023 outlook spooked investors. High inflation and macroeconomic uncertainty have tightened consumer wallets.
Consumer spending has shifted to services like travel, restaurants, and health and wellness versus goods like apparel.
Shifting Consumer Spending
Video streaming platform Roku Inc. (NASDAQ: ROKU) sees digital ad spending start to uptick in the aforementioned consumer verticals in Q1 2023. This is not favorable for Shopify since discretionary retail categories like apparel are a mainstay. While smaller merchants are getting hit more by the lagging consumer spending, Shopify has been beefing up its delivery infrastructure with its third-party logistics service Deliverr.
Shopify is headhunting for large enterprise retailers to integrate Shopify into their native eCommerce stack as a growth driver.
Attracting Big Brands Enterprise Merchants with CCS
Shopify has rolled out its Commerce Components by Shopify (CCS) to attract large enterprise retail clients. It enables social and checkout tools that integrate into existing commerce stacks to make onboarding fast and seamless. One of the early adopters was toy giant Mattel Inc. (NYSE: MAT), bringing its entire entertainment portfolio to Shopify.
Enterprise retailers bring large GMV, translating into more fees for Shopify. Other major retailers include Supreme, Glossier, Stanley Black and Decker Inc. (NYSE: SWK), and celebrity brands, including Feastables by Mr. Beast, Joopiter by Pharrell Williams, and SKKN by Kim Kardashian.
Management mentioned that Amazon Inc. (NASDAQ: AMZN) had expanded its Buy with Prime offering to U.S. merchants. This enables customers to checkout on third-party sites with their Prime account, which has resulted in 25% conversion rates. It would be a boon for merchants.
Operating Expenses
Operating expenses grew to $987 million, which included a real estate impairment charge of $84 million. The expenses spike was due to headcount from Deliverr and its new compensation system. The Company is taking measures to stabilize and trim opex, including more scrutiny on cloud infrastructure spending, ROI on marketing programs, and leveraging technology like robotic process automation (RPA) to automate previously manual processes.
The Company cut 10% of its workforce in Q4 2022.
Deliverr Expenses
The Company is building out its distribution network. This is attracting more prominent merchants to the Shopify platform. Its Deliverr service is a third-party logistics service assisting Shopify merchants in fulfilling and delivering their orders. It has been capital-intensive in terms of both GAAP and non-GAAP expenses.
Stock-based compensation rose to $142 million versus $98 million in the year-ago period, driven by Deliverr and rising headcounts.
Impressive Q4 2022 Earnings
On Feb. 15, 2023, Shopify reported its Q4 2022 earnings for the quarter ended December 2022. The Company reported a non-GAAP earnings-per-share (EPS) profit of $0.07 versus consensus analyst estimates for a loss of $0.02, a $0.07 beat. Revenues grew 25.7% year-over-year (YoY) to $1.73 billion, beating the $1.65 billion consensus analyst estimates.
Gross merchandise volume (GMV) grew 13% YoY to $61 billion. Gross payments volume (GPV) rose to $34.2 billion, representing 51% of GMV processed in the quarter.
Bracing for the Slowdown
Financial metrics look strong, but things went south for the stock when Shopify revealed its Q1 2023 guidance. Management downplayed its Q1 2023 outlook blaming a challenging macroeconomic climate pushing consumers to discounted and non-discretionary spending over discretionary. The Company started a new compensation framework enabling employees to allocate their compensation split between cash and stock. This resulted in higher compensation expenses that started in September 2022.
Its Shopify Fulfillment Network will pressure gross margins and significantly contribute to its operating expenses in 2023. The YoY comparisons will be most painful in 1H 2023, considering the Deliverr acquisition that closed in July 2022.
Q1 2023 Guidance Disappoints
Its Q1 2023 revenues are expected to grow in the high teens YoY. Gross margins are expected to be slightly higher sequentially from Q4 2022. Gross margins will continue to be affected by the annualized impact of the Deliverr acquisition and Shopify Payments growth.
Operating expenses will be up in the low single digits compared to Q4 2022 after backing out one-time charges for Q4. Capex and stock-based compensation are expected to be in line with 2022.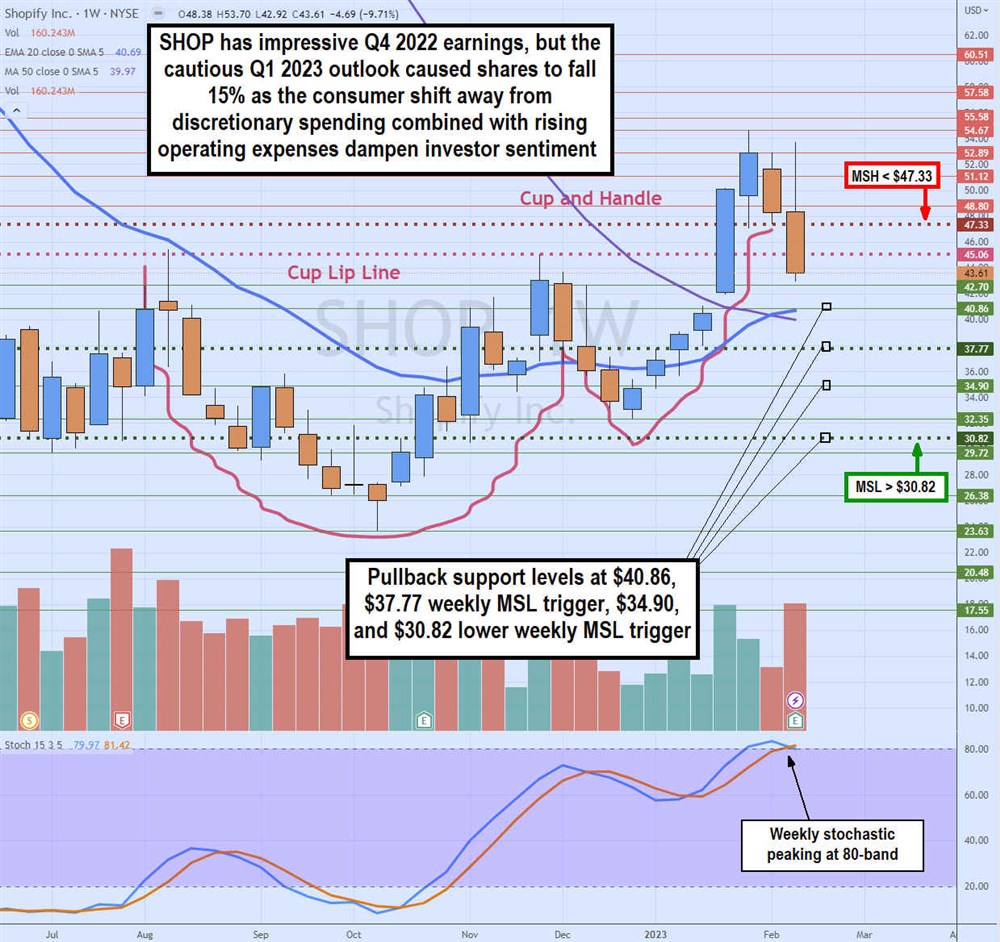 Weekly Cup and Handle Reversion
The weekly candlestick chart SHOP illustrates the classic cup and handle breakout. The cup was formed as the lip line formed at $45.06 in August 2022 as shares plunged to a low of $23.63 by October 2022. The weekly stochastic bounced through the 20-band rebounding shares through the weekly market structure low (MSL) buy trigger on the $30.82 breakout.
SHOP shares peaked at the lip line to complete the cup portion. The handle formed after shares pulled back to $32.35 and triggered a higher MSL breakout through $37.77. The breakout through the lip line at $45.06 confirmed the cup and handle pattern as shares ran up to $54.67 ahead of its earnings report. SHOP plummeted 15% on a disappointing Q1 2022 outlook as the weekly stochastic peaks at the 80-band.
Pullback support levels sit at $40.86, $37.77 weekly MSL trigger, $34.90, and $30.82 higher weekly MSL trigger.