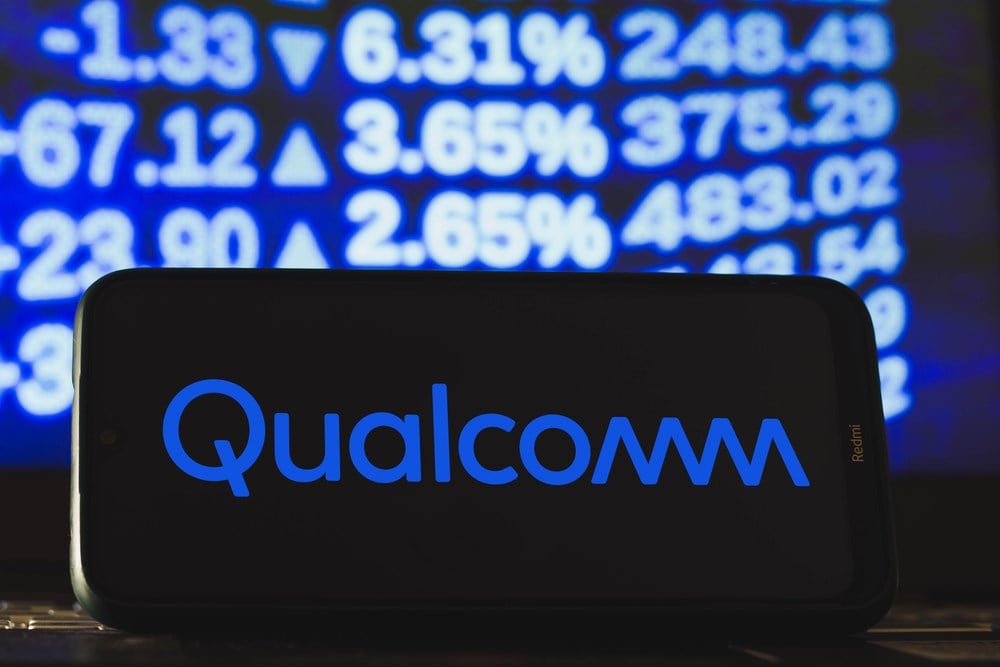 Qualcomm Inc (NASDAQ: QCOM) released its Q2 financial results after the bell on Wednesday, with investors watching closely to see if they could match the optimistic beats of many of their tech peers. For Qualcomm, in particular, an upside beat and upbeat forward guidance were very much needed, as their shares have been trading sideways since October.

However, it was not to be with the semiconductor's non-GAAP EPS of $2.15, just barely missing analyst expectations by $0.01. Their revenue did manage to come in ahead of the consensus, which was a bright spot, though with a year-over-year contraction of 17%, it's not exactly the kind of metric to be boasting about. In addition, the company gave its outlook for the third quarter, which was weaker than expected. 
Weak Outlook
In a post-earnings release statement, management shared its third-quarter forecast, saying it's continuing to see the impact of several factors in business, including "macroeconomic headwinds, weaker global handset units, and channel inventory drawdown." Investors would have been hoping for signs that these headwinds were starting to diminish rather than entrench themselves, as their semiconductor peers Advanced Micro Devices (NASDAQ: AMD) and NVIDIA (NASDAQ: NVDA) have managed to deliver decent share price returns in a similar trading environment. 
Qualcomm also told investors it's now expecting "a larger-than-normal sequential decline" in revenue for its QCT division, which was already down 17% compared to the same quarter last year. For context, this QCT business unit includes most of the company's mobile-phone chipsets and mobile device products.
Shares React
As might be expected after such a report and forward guidance, shares were sold. In last night's after-hours sessions, they fell by almost 7%. Whatever about a contracting revenue figure and weaker-than-expected EPS, investors were clearly rattled by the company's outlook for the rest of the year. For total revenue in Q3, Qualcomm is now expecting to land between $8.1 billion and $8.9 billion, a far cry from the consensus forecast for $9.1 billion. Their adjusted EPS will also be considerably lighter than expected. 
CEO Cristiano Amon acknowledged the challenges ahead in the earnings call, citing the mobile phone market as particularly difficult due to supply chain constraints and a shift in consumer preferences towards lower-priced devices.
Amon noted that the company's supply chain has been affected by the ongoing semiconductor shortage, which has, in turn, caused delays in production and higher operating costs. Despite these challenges, though, he remains confident in the company's ability to navigate the current environment and emerge stronger in the long run. 
Considering A Position
A CEO will also strike an optimistic note no matter the results, so investors will take that with a grain of salt. The fact is that Qualcomm's shares are up a paltry 1% since the start of the year, against a solid 27% for AMD and a truly impressive 94% for NVDA. The most striking comparison is against Intel Corporation (NASDAQ: INTC) shares, who, even with their host of longer-term problems, are outperforming Qualcomm with a 15% return.  
Investors considering getting involved in Qualcomm need to be well aware of both the challenges facing the company in the short term, but also its longer-term under-performance against its peers. To be fair, though, the company still has a lot going for it. While the mobile phone market may be challenging, the company's position in the semiconductor industry remains strong, and it is well positioned to capitalize on the shift towards 5G technology. The company's Snapdragon processors are widely used in smartphones and other devices, and its portfolio of patents generates significant revenue from licensing fees. 
A much broader market rally, alongside a weakening of the industry-specific headwinds, are both needed right now. Together, they would go a long way to helping Qualcomm's shares turn north towards their peers, with that catchup play being a real opportunity. MarketBeat's Forecast tool rates Qualcomm's shares as a Moderate Buy, with an upside target of 38%, so perhaps there is a case for the longer-term opportunity.