Every year on Sept. 15, Central Americans of Los Angeles celebrate the day Guatemala, El Salvador, Nicaragua, Costa Rica, and Honduras declared independence from Spain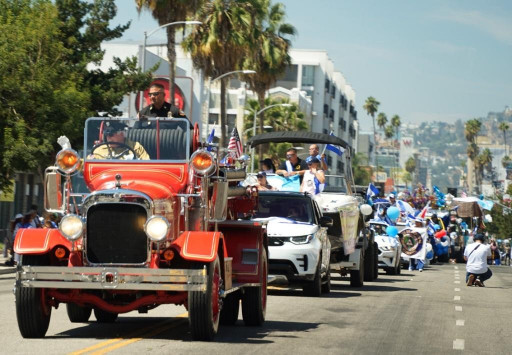 Parade in honor of the Bicentennial of Central American Independence
Church of Scientology Los Angeles, in coordination with the L.A. Guatemalan and Salvadorian communities, took part in parades and organized festivals in honor of the occasion.
LOS ANGELES - September 14, 2021 - (
Newswire.com
)
Sept. 15 marks the 200th anniversary of Central American countries declaring their independence. Working with leaders of the Los Angeles Guatemalan and Salvadorian communities, the Church of Scientology Los Angeles launched this celebration early, taking part in two parades and hosting two festivals over Labor Day Weekend, Sept. 4-5.
First was the Guatemala Bicentennial Parade down Hollywood Boulevard, organized by the Guatemalan Chamber of Commerce. The Volunteer Ministers of the Los Angeles Church of Scientology partnered with the Chamber, hosting food drives this year to help deal with increased food insecurity because of the COVID-19 pandemic.
Scientology Volunteer Ministers in their signature yellow T-shirts walked down the boulevard in front of their float. They carried a 12-foot banner bearing their motto: "Something can be done about it." 
The parade route ended at the Church of Scientology at L. Ron Hubbard Way in East Hollywood, where the Church organized an Independence Day festival featuring music, salsa dancing, and food from an assortment of Hollywood's favorite food trucks. 
Sunday was dedicated to the equally joyous celebration of El Salvador's independence, beginning with a two-mile parade down Hollywood Boulevard organized by Festival Independencia Salvadoreña. Volunteers from the Scientology-sponsored United for Human Rights initiative, working with parade organizers, invited paradegoers to the Independence Day party at the Church of Scientology, right at the end of the parade route. Sunday's celebration was rich in Latin American culture, with traditional music and dancing. 
The Church of Scientology Los Angeles is an Ideal Scientology Organization, configured to serve its parishioners in their ascent to spiritual freedom and to serve as a resource for the entire community. 
The Church sponsors humanitarian programs that provide practical solutions to some of the most pressing issues communities are confronted with today. Voices for Humanity, an original series on the Scientology Network, features, among many others, the work of Guatemalan human rights activist Cynthia Guerra and Salvadorian drug-prevention champion Hugo Angulo Rogel. 
The Church of Scientology Los Angeles is also featured on the Scientology Network in the program Inside a Church of Scientology. 
Scientology Network was launched with a special introduction by the religion's ecclesiastical leader David Miscavige in 2018. Programs are available on DIRECTV 320, at Scientology.tv and through Apple TV, Fire TV, Roku, YouTube and mobile apps for smartphones and tablets.
For more information, visit the Scientology Newsroom.
Contact:
Media Relations
Church of Scientology International
(323) 960-3500
mediarelations@churchofscientology.net
Press Release Service by
Newswire.com
Original Source:
Church of Scientology Joins the Celebration of 200 Years of Central American Freedom