Louisville, KY — Today, 10BibleVerses.com revealed the most popular scripture verses of 2022.
Millions of Christians have built a habit of daily Bible reading for inspiration and wisdom. Some topics and scripture passages gain popularity depending on world events. In 2022, spiritual concerns are sending people back to their religious texts.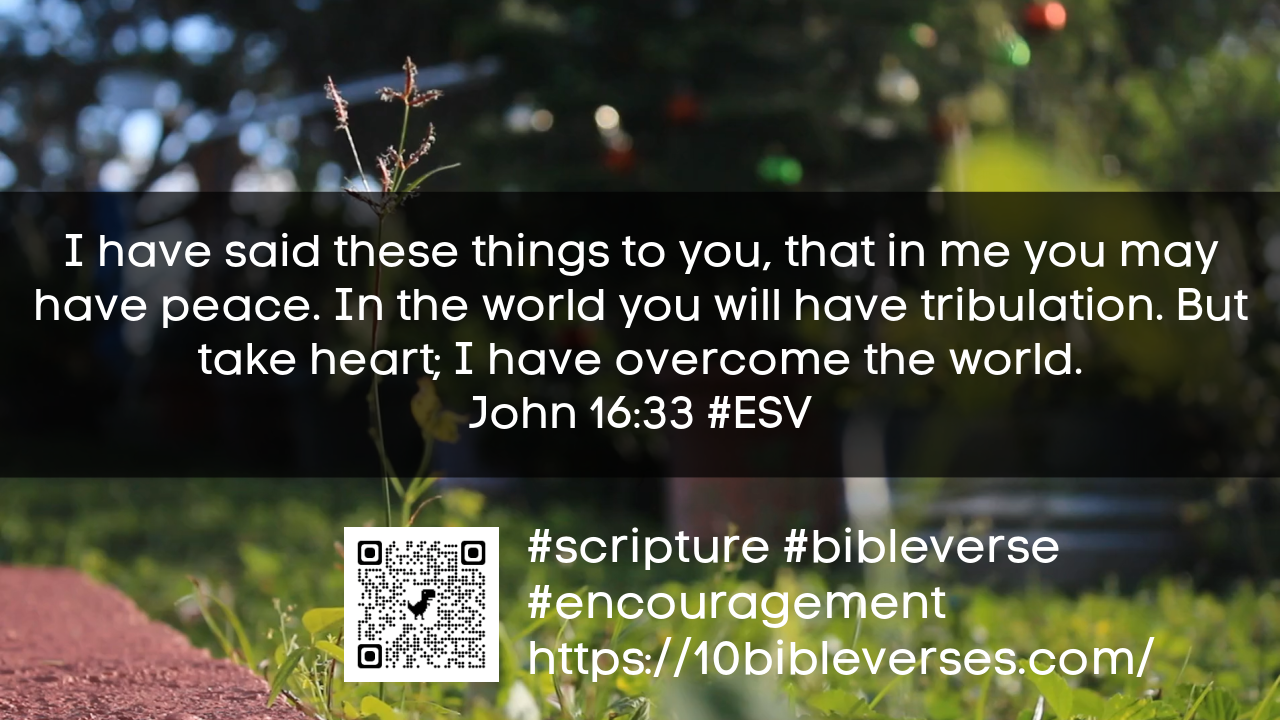 10 Bible Verses has been tracking the social shares, topic searches, Bible verse podcast listeners, and scripture lookups to identify the most re-quoted scripture passages of the year 2022.
The top shared scripture quote this year was John 16:33, where Jesus says:
"I have said these things to you, that in me you may have peace. In the world you will have tribulation. But take heart; I have overcome the world."
"This comes as no surprise as many Bible believers look to God's Word for peace in times of war," said Tony Kummer, founder of 10 Bible Verses. "The situation in Ukraine and the dramatic images of war on social media have brought this military conflict close to home."
There are hundreds of Bible verses about peace and religious leaders worldwide have urged the faithful to pray for peace in 2022. As Pope Francis lamented in a special prayer service on March 25, 2022, "We have forgotten the lessons learned from the tragedies of the last century, the sacrifice of the millions who fell in two World Wars… Free us from war, protect our world from the menace of nuclear weapons."
Many familiar scripture have remained top 5 contenders for verse of the year 2022.
"For God so loved the world, that he gave his only begotten Son, that whosoever believeth in him should not perish, but have everlasting life." Quoted from John 3:16 in the King James Version (KJV).
"For I know the plans I have for you, declares the LORD, plans to prosper you and not to harm you, plans to give you hope and a future." Quoted from Jeremiah 29:11 New International Version (NIV).
"And we know that in all things God works for the good of those who love him, who have been called according to his purpose." Quoted from Romans 8:28 New International Version (NIV).
"And God shall wipe away all tears from their eyes; and there shall be no more death, neither sorrow, nor crying, neither shall there be any more pain: for the former things are passed away." Quoted from Revelation 2:14 King James Version (KJV).
10 Bible Verses is an interdenominational ministry and not affiliated with any specific religious or church organization. The mission is to help everyone discover the truth and power of God's Word through daily Bible reading, prayer, and personal devotion.
###
For more information about 10 Bible Verses, contact the company here:

10 Bible Verses
Tony Kummer
502-319-2106
amen@10bibleverses.com
412 Adkins Ct.
Sellersburg, IN 47172
United States