By Rachel Landgraf
SOURCE: United Airlines Inc.
DESCRIPTION:
Carole Cary-Hopson, Newark Liberty International Airport Boeing 737 First Officer, remembers how it felt piloting her first United flight.
"Shivers" she recalled. "I felt as if this is what dreams are made of. Every single time I come to work, I feel that way."
"That way" was 14 years in the making for Carole. "What dreams are made of" dates back to her childhood in Pennsylvania and frequently visiting her grandma's home in south Jersey that was right by the Philadelphia airport.
"We would go and lie in the grass by the airport and note the colors of the planes coming in and leaving, how many would come through at a time; we made graphs," said Carole. "I was fascinated by it."
As Carole grew up, she held on to that fascination, but an undergrad and master's degree later, she found herself successfully climbing her way up the corporate ladder, from the NFL to Footlocker. As her duties and roles continued to evolve and grow, Carole observed that she was always on an airplane. In fact, it was on a work trip where that observation and her life-long fascination came full circle.
"I was on a KLM flight and the pilot noticed me looking around and observing everything," she said. "So, he offered me the jumpseat and proceeded to teach me everything across the North Atlantic trip. It was then and there I realized, 'I can do this.' It all came together in my head."
Not long after that flight, Carole went on a date with a man who she now proudly calls her husband.
"I told him on that date, 'I have something to tell you and if you laugh at me about it, I'll never see you again,'" said Carole. Carole proceeded to tell him about her dream of becoming a pilot. A few weeks after that date, he handed her gift certificates to attend a flight school right outside of Manhattan.
From there, Carole moved roles in her corporate career once more, taking a job with L'Oreal where she socked away her paychecks to save up for flight school. In the meantime, she began to network in the aviation world, attending events through Women in Aviation and the Organization of Black Aerospace Professionals (OBAP). It was there she met her mentors, one being American Airlines Captain Jenny Beatty who handed her a mug of Bessie Coleman, the first woman of African-American and Native-American descent to hold a pilot's license.
"I stood on that crowded convention floor with Jenny and Bessie at that time and just bawled," said Carole. "I kept asking myself how I could be an Ivy League graduate and had never heard of her. At that moment, I wanted to do something with her story."
Thus, along with training, becoming a pilot and raising a family, Carole began writing a historical fiction book on Bessie, a woman who had to go to France to learn how to fly because no one would teach her in the U.S. Today, the book is near completion and once finished, 25% of the proceeds will go toward the Lt. Colonel Luke Weathers Flight Academy, an organization within OBAP that aims to grow and diversify the future pilot pipeline.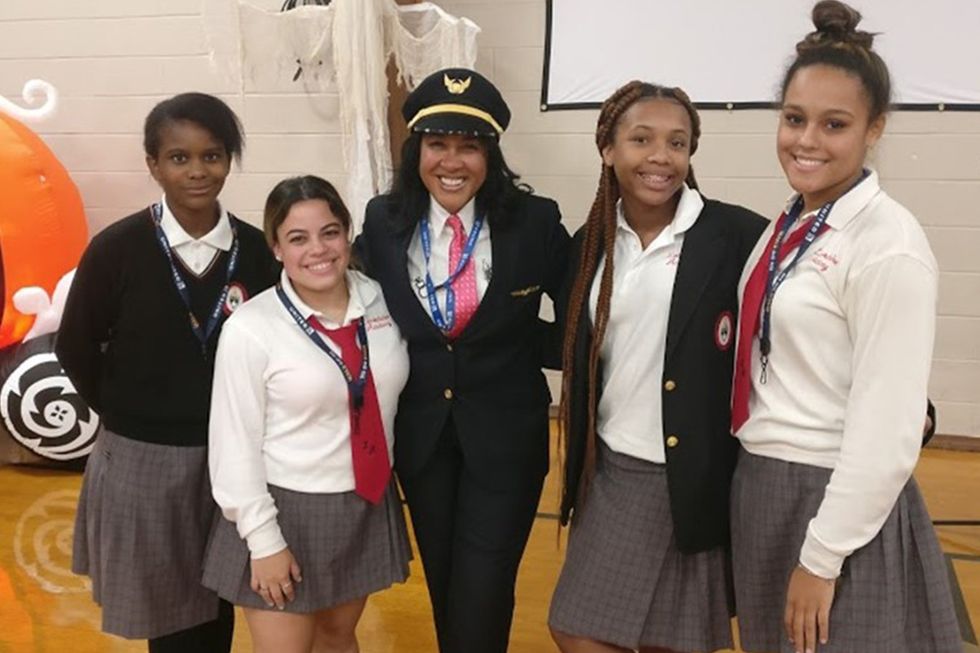 "I hope Bessie is smiling down and has forgiven me for taking so long on writing this book," said Carole. "She continues to provide me with guidance and being an example of determination. I know she would tell me to keep going and to not even dare to stop."
Well, as if Bessie already doesn't know, stopping doesn't seem to be in Carole's vocabulary.
"When you have a goal, there are a series of definitive steps," said Carole. "Each one is important and sometimes, they take many years to reach. But each one of those goals I had in the past were steps that got me to flying."
And Carole's next step?
"Continue to fly and finish Bessie's book," said Carole. "And once the book is finished, the goal is a movie and then sending 100 black women to flight school. With the numbers being only 1-2% African-American's flying, we need to fix that, and I intend to!"
Tweet me: "I felt as if this is what dreams are made of. Every single time I come to work, I feel that way." Read about @United First Officer Carole Cary-Hopson's journey, and the work she's doing to diversify the future pilot pipeline: http://bit.ly/39QSAYq
KEYWORDS: NASDAQ:UAL, United Airlines, black history month, Bessie Coleman, women pilots, women in stem