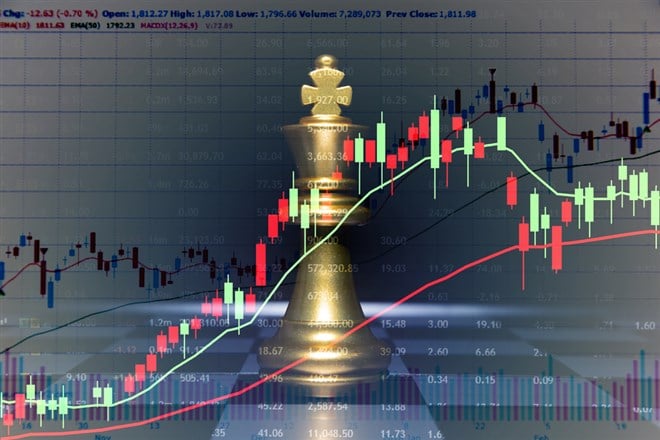 The Dividend Kings are an attractive bunch with their 50+ years of dividend increases, and a track record that exudes stability and safety for income-seeking investors. The only downside to the group is that they often come at high valuations and lower-than-average yields because of that safety.
Buy-and-hold income investors want to buy and hold these stocks, and that tends to keep the prices up but the volatility down, which, in many cases, is the mitigating factor. Today's list includes 3 higher-yielding Dividend Kings and what the market can expect from them in 2023. 
Lowe's, It's Begging To Be Bought 
Lowe's Companies, Inc (NYSE: LOW) is a Dividend King begging to be bought. Not only does it have 59 years of consecutive increases to its credit, but it's trading at a low valuation, pays 2% and comes with 1 of if not the most attractive outlooks for distribution growth in this group.
Starting with the valuation, the stock is trading at only 15X its earnings which is in line with the broad market and 5 handles lower than its competitor Home Depot (NYSE: HD). Home Depot has a slightly higher yield but nowhere the track record of increases, and its positioning is questionable in relation to shifting trends in the home improvement space. Home Depot has greater exposure to professional channels, expected to take the biggest hit in 2023. 
Lowe's dividend metrics are more than attractive. The yield is above the broad market average and comes with a very low 28% payout ratio and a high CAGR of 20%. This means investors can expect dividend increases to continue for many years into the future and at a high pace, if not the 20% annual average that has been set over the past few years.
Looking at the chart, Lowe's has bottomed following its correction but may be trapped in a range. The next target for resistance is near $220, a break above that level would be bullish. The next major catalyst is calendar Q4 results which are due out at the end of February.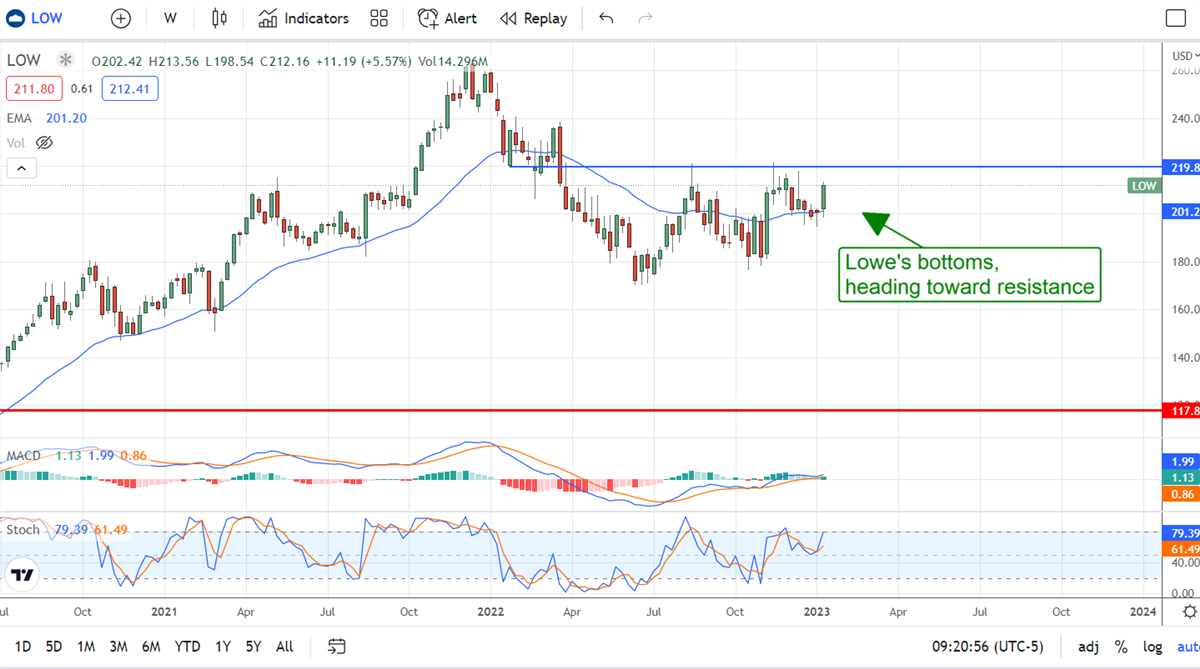 AbbVie, An Honorary Dividend King 
AbbVie Inc (NYSE: ABBV) is technically not a Dividend King or even a Dividend Aristocrat, far from it. Still, it has garnered honorary status due to its relation to Abbott Laboratories. AbbVie began its life as the pharma segment of Abbott Laboratories and was spun off in 2013.
AbbVie has paid and increased its dividend every year for 10 years. Still, it is a dividend paid by Abbott, which, on a spin-off adjusted basis, increased its dividend for over 50 consecutive years. The takeaway is that AbbVie may not have been around long enough to be a King, but it is of King quality and on track to become one, given time, and it is an attractively high yield. 
AbbVie pays a yield worth 3.85% in the 3rd week of 2023. The payout ratio and CAGR are also attractive at 50% of next year's earnings and roughly 10%.
This payout isn't increasing as quickly as Lowe's, and it may slow sooner and to a lower pace, but the current yield is enough to offset that factor, and there is value to be had as well. AbbVie trades at 13X its next-year's earnings while other pharma stocks trade at higher multiples, and ABT trades near 20X earnings.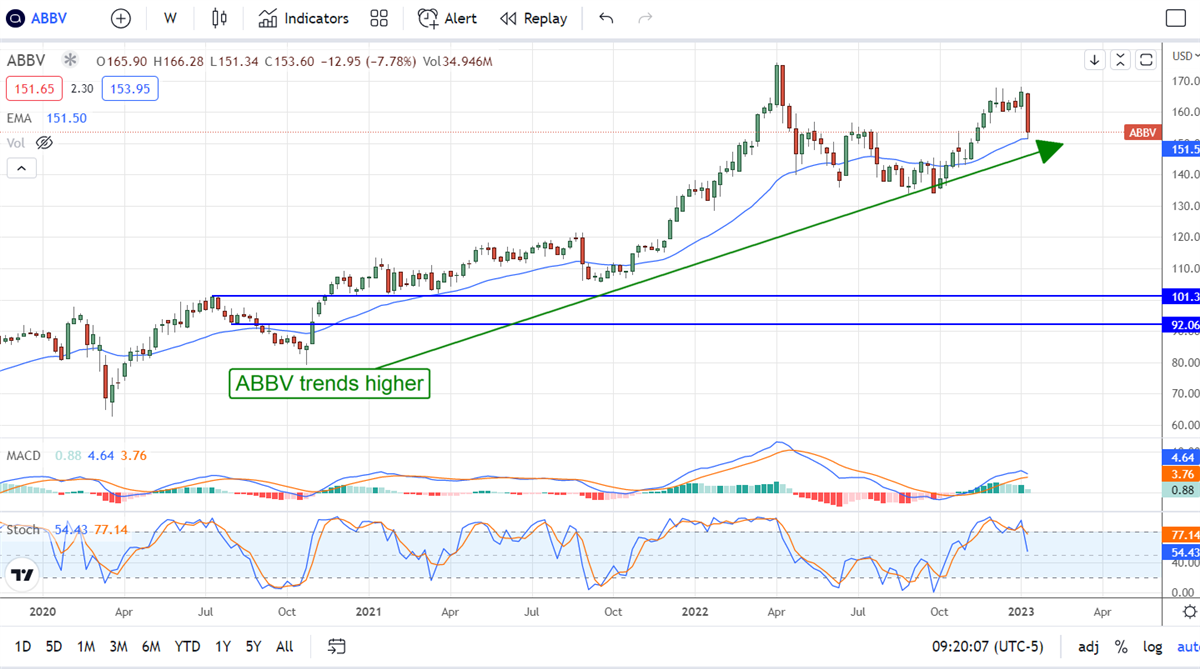 Pepsico Is An Easy Dividend King To Buy And Hold
The story with Pepsico is not beverages, sodas or the soda wars. That story is played, and Coke wins, but Pepsi is the real winner. The company has emerged as a leading consumer staple company with a diversified portfolio that has proven to have brand strength and pricing power in the wake of the recession and rising inflation.
The real takeaway is that Pepsico recently achieved Dividend King status and is on track to continue increasing its payout for many more years. The stock is yielding 2.6% in mid-January 2023, not the highest for a King, but it is in the higher end of the range and supported by a growing business.
For all of its ups and downs, Pepsico stock is also a low-Beta stock compared to the S&P 500. The company's 3-year beta is running at 0.60 compared to the S&P 500's 1.0, making it a much lower volatility stock to own. This doesn't protect it from market swings but means investors will see smaller downswings than the S&P 500. The only bad news is that upswings may also be smaller, which is offset by the index-beating dividend, share repurchases and uptrending price action.

3M, Headwinds Have Value and Yield In An Attractive Range 
Headwinds in the form of pending litigation have the price of 3M (NYSE: MMM) shares at the lowest levels in a decade and the yield at the highest. The litigation centers on earplugs and forever chemicals and is a risk for investors. The takeaway is that 3M is still paying its dividend, and it should be able to move past these looming events.
In between, investors may expect price volatility while earning the 4.6% dividend yield. As it stands now, 3M is on track to exit the "forever chemicals" market by 2025.